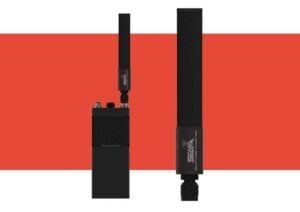 Southwest Antennas has expanded its line of compact, high-performance wideband omni-directional antennas. The new addition to the range (part # 1001-243) covers the 1.35 to 2.5 GHz band and measures just over 6″ in length, making it ideal for small unmanned ground vehicles (UGVs) and ground control stations as well as portable applications.
The new antenna is well-suited for integration into tactical radio systems with multi-band operating capabilities, offering excellent continuous electrical performance across its entire range, and covers Department of Defense, law enforcement and Homeland Security bands. It is compatible with both single-port SISO (single-input single-output) radios and multi-port MIMO/MANET (multiple-input multiple-output/mobile ad hoc network) radio systems.
It features a black chrome TNC(m) RF connector and a rugged flat black G10 fiberglass radome that gives the antenna a low visibility finish for tactical applications.
Specifications include:
1.35 – 2.5 GHz Continuous Coverage
2.4 dBi of peak gain
100W power handling
High band cellular & 2.4 GHz ISM band coverage