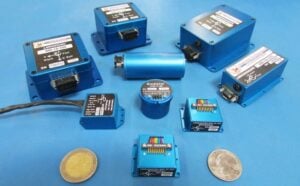 Gladiator Technologies has selected Strainsense Limited to be an exclusive distributor of Gladiator's low-noise MEMS inertial systems in the United Kingdom and Ireland, thus further expanding the company's European distribution network. Gladiator's inertial sensing solutions are used in a wide variety of applications requiring precision measurement, including commercial, industrial and defense UAVs (unmanned aerial vehicles), UGVs (unmanned ground vehicles) and USVs (unmanned surface vehicles).
Strainsense specialize in developing custom sensor solutions for the test and measurement, military, automotive and rail markets, with a focus on the measurement of pressure, force, position and vibration. The company is experienced in providing solutions for highly demanding environments, drawing on an extensive portfolio of products from leading manufacturers. Strainsense's technically experienced staff have an extensive background in application engineering, as well as the sales and promotion of inertial sensors and systems.
Gladiator products represented and distributed by Strainsense include inertial measurement units (IMUs), gyroscopes, accelerometers and GPS-aided INS (inertial navigation systems). Gladiator's inertial systems combine very low noise inertial sensors with the company's proprietary VELOX high speed processing technology to provide excellent data rates and short message timing.
Eric Yates, Director of New Business Development at Gladiator, commented: "Our business is going through expansive growth and the addition of Strainsense will further develop our customer base in the United Kingdom & Ireland. An experienced distributor like Strainsense knows the technology, knows the market and their local presence gives customers exceptional technical support and responsive customer service."
Anthony Cross, Managing Director at Strainsense, stated: "We are pleased to add a high-performance MEMS IMU to our product portfolio. Gladiator Technologies is a technology leader and their products featuring low noise sensors and VELOX are a perfect addition to our product line."