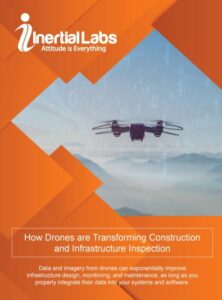 Inertial Labs, a developer of advanced inertial sensing technologies, has released a case study outlining how unmanned aerial vehicles (UAVs) can be used to significantly improve infrastructure design, monitoring, and maintenance for the construction industry, using captured video and image data.
Download the full case study here
The case study gives details of the use of drones for the following tasks commonly carried out in the construction industry:
Preconstruction design and site review
Construction monitoring
Operations and maintenance
Razing
The article also discusses the importance of using software that can accept and fully analyse data captured from drones, as well as the growth of the usage of drones in the construction industry.
To find out more about the use of UAVs in construction and infrastructure inspection, download the full case study.