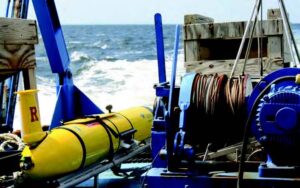 Teledyne Marine, a developer of autonomous and unmanned marine vehicles, has released an article detailing how the company's Slocum glider UUVs (unmanned underwater vehicles) have been used to measure the influences of ocean conditions and currents on storms in order to improve storm prediction capabilities.
Read the full article, which was also published in Marine Link Magazine, on Teledyne Marine's website here
The article provides details of:
The importance of measuring subsea temperatures and current dynamics for storm prediction
The movement patterns of Teledyne Marine's unmanned Slocum gliders
Oceanographic sensors fitted to the Slocum glider
How Slocum gliders have been used by research organisations, including the U.S. Navy, to monitor recent hurricanes and typhoons
Using autonomous profiling floats to measure temperature, salinity and current velocity profiles
Large advances in ocean observing capabilities have been achieved via the use of unmanned observing platforms, which can be used in waters that are too challenging for ships and too hazardous for humans. To find out more, read the full article on Teledyne Marine's website.