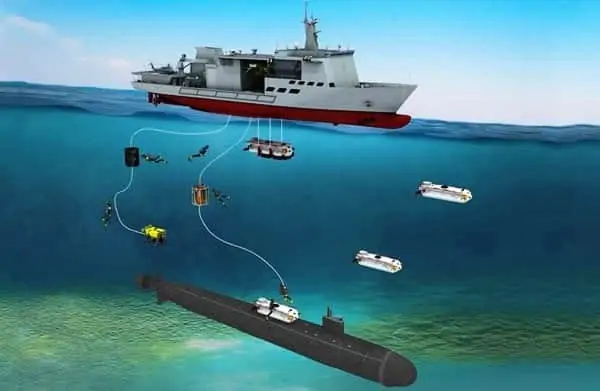 Sonardyne International, a developer of underwater positioning and tracking technology for UUVs (unmanned underwater vehicles) and AUVs (autonomous underwater vehicles), has announced that its Ranger 2 Ultra-Short BaseLine (USBL) system will be used to support search and recovery operations undertaken by the Republic of Korea Navy's (RoKN's) new auxiliary submarine rescue ship, the ASR-II.
Sonardyne has partnered with GE's Power Conversion subsidiary to interface the Ranger 2 with GE's Seastream Dynamic Position (DP) control system, providing the vessel with accurate and fast position reference updates during critical station keeping activities. The Ranger 2 will also be used to simultaneously track and communicate with Sonardyne instrumentation fitted to the untethered Deep Search Rescue Vehicle (DSRV) that will deploy from the vessel. The ASR-II and the moonpool-deployed DSRV are being built under South Korea's Defense Acquisition Program Administration as a replacement for the submarine rescue ship RoKS Cheonghaejin.
GE's Power Conversion subsidiary have provided Sonardyne with everything required for the vessel to achieve the best performance from its Ranger 2 USBL during exercises and submarine rescue operations. This includes a seabed-deployed 3,000 m-rated Dynamic Positioning Transponder 6 (DPT 6) with recovery floatation collar to provide high accuracy USBL positioning for reliable station keeping, even when operating near sources of potential noise interference such as other naval vessels.
The control room software will be fitted with a Ranger 2 Marine Robotics Pack, allowing the vessel crew to both track the DSRV and also communicate with it by sending and receiving status messages. Sonardyne will also supply a deployment machine and gate valve, through which the Ranger 2 HPT 5000 USBL transceiver will be deployed through the hull of the ASR-II. The HPT 5000 enables underwater targets to be tracked over a wide range of depths and elevations, allowing maximum flexibility for vessels needing to undertake a variety of tasks on a regular basis.
Derek Lynch, Global Business Manager for Marine Vessel Systems at Sonardyne, commented: "We have a track record in reliably positioning underwater systems in the deepest waters, as well as shallow water, and for something as critical as a submarine rescue system, you need a system that has proven ability in all situations. Ranger 2 has that. The configuration of equipment we're supplying to the ASR-II means it will have everything it needs to arrive on site and begin working immediately to support search, rescue and recovery operations anywhere in the world."