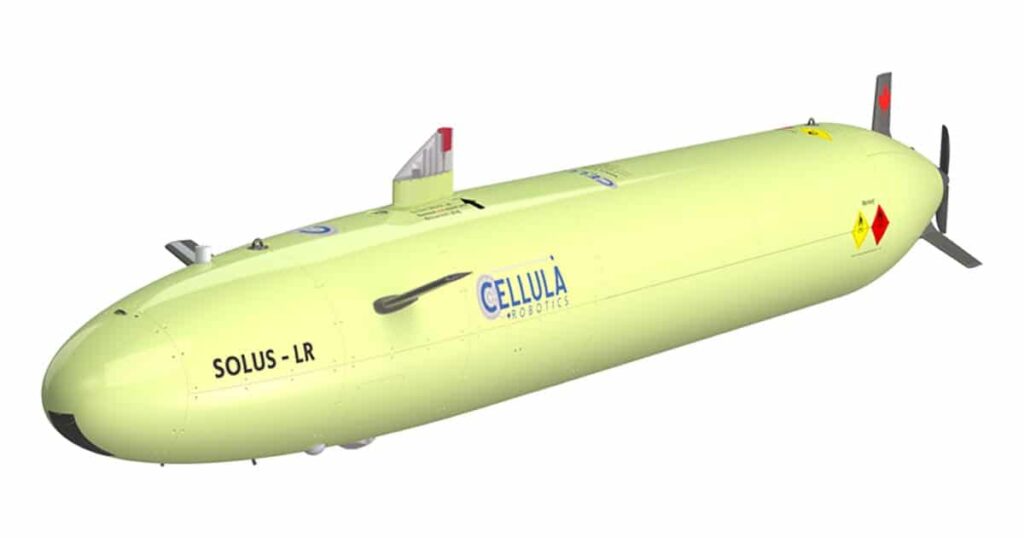 Sonardyne has announced that integrated navigation, positioning and communications technology developed by the company will support a new fuel cell-powered long-range unmanned underwater vehicle (UUV) being designed by subsea specialist Cellula Robotics Ltd. for the Canadian defence department.
The UUV, called Solus-LR, is being designed to be able to travel up to 2,000 kilometres and stay submerged on multi-month missions, supported by an onboard fuel cell power pack. To help meet these demanding long-duration and long-distance navigational requirements, Cellula Robotics has ordered one of Sonardyne's high-performance SPRINT-Nav subsea navigation instruments for the Solus-LR.
SPRINT-Nav, which combines a SPRINT INS, Syrinx 600 kHz DVL and a high accuracy intelligent pressure sensor in a single housing, is one of the smallest and the highest performing combined inertial navigation instruments on the market.
For tracking the vehicle from the surface, receiving data packets from it and sending mission commands to it, Cellula Robotics has also ordered a Micro-Ranger 2 Ultra-Short BaseLine (USBL) system with optional Marine Robotics software feature pack, and an AvTrak 6 combined transponder and telemetry transceiver, which will be integrated into the UUV. Micro-Ranger 2 is Sonardyne's most compact underwater target tracking system, built around the company's 6G hardware and Wideband 2 digital acoustic technology platform which delivers consistently in any operational scenario.
Sea trials of the Solus-LR, which are expected to start in late 2019, running through to early 2020, will also be supported by the use of Sonardyne's Compatt 6 seabed transponders and the company's BlueComm 200 underwater optical communication instruments. BlueComm 200s are able to transmit high-bandwidth data, including video, at up to 150 metres. The trials will be held in the Indian Arm fjord, near Vancouver, British Columbia, close to Cellula's Robotics' headquarters.
Solus-LR is being built for the Canadian Department of National Defence's (DND) science and technology organization, Defence Research and Development Canada (DRDC), under the All Domain Situational Awareness (ADSA) Science & Technology (S&T) Program. The ADSA S&T program is supporting projects which could help to enhance domain awareness of air, maritime surface and sub-surface approaches to Canada, in particular those in the Arctic.
"This S&T program will showcase Cellula's advanced UUV research and development, combining traditional technologies with innovative power and anchoring solutions. With Solus-LR able to travel for thousands of kilometers, port to port missions will become a feasible lower-cost alternative to vessel-based operations," said Eric Jackson, President of Cellula.