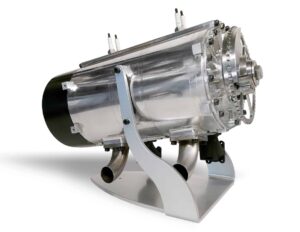 Sky Power, a manufacturer of engines for unmanned aerial systems (UAS), has announced that it has been awarded ISO 9001:2015 quality certification. The award was obtained due to the company's efficient, sustainable, lean manufacturing process in accordance with the Lean Production approach, as well as high-quality customer service.
"The certification is important for us as an international company. As a German engine manufacturer, we carry the unofficial quality label Made in Germany, which now is officially confirmed by the certification," explained managing director Karl Schudt. ISO 9001 defines the requirements for quality management.
"Our customers expect the highest quality, customer orientation and flexibility from us. We have fulfilled this expectation since the company was founded and have thus gained a good reputation within the UAS industry in a short time. Therefore, it is even more important for us that an external certification organization attests that we meet these self-imposed requirements and are on the right track," added Schudt.
Sky Power manufactures 2-stroke combustion engines and Wankel engines for UAS as well as hybrid designs. In addition to its own development and production, Sky Power produces all engines in Germany. Customizations, new developments and the expansion of the performance of the internal combustion engines are a further corporate goal.