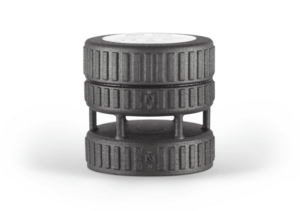 FT Technologies has announced the launch of the first of the company's new generation of lightweight ultrasonic wind sensors. Made from a graphite and nylon composite, and weighing 100g (3.5oz), the FT205 UAV wind sensor has been specifically designed for use on unmanned aerial vehicles (UAVs).
Powered by FT's unique Acu-Res Technology, the sensor uses ultrasound to derive air speed, direction and temperature. It also features a built-in compass.
Although light, the compact size and shape of the FT205 makes it physically very strong. It is resistant to vibration, shock, electrical interference and is also fully-sealed and water-resistant. It can operate at altitudes up to 4000m and at temperatures between -20°C and +70°C.
With low power requirements, and reading wind speeds up to 75m/s, the FT205 is ideal for UAV flight control systems and environmental monitoring from drones and remotely piloted aircraft.
To provide accurate wind measurements, the wind sensor must be mounted away from the wash of the drone rotors. Every drone is different so the FT205 has been designed to fit either to a pole or to flat surface. It can also be mounted upside down. It can output data via RS485, RS422 or UART. Units of measure can be set to metres per second, kilometres per hour or knots.
Speaking at the launch, Fred Squire, Director of Sales and Marketing, said: "The FT205 is the first in a new generation of lightweight ultrasonic wind sensors. It is unique in the market in that it combines a weight of only 100g with a wind speed reading range up to 75m/s. The light weight of the FT205 together with the proven FT Acu-Res Technology make it ideal for use on aerial drones and other applications where weight is critical."
Like all FT wind sensors, the FT205 has been thoroughly tested in a HALT (Highly Accelerated Life Cycle) chamber. The FT205 was heated to +90°C and cooled to -40°C whilst being vibrated in six dimensions up to 60g. During and after the testing the test sensors continued to communicate accurately, proving the ability to survive normal service.