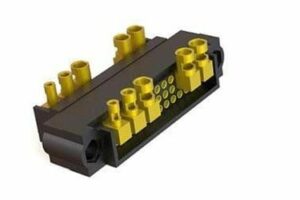 Nicomatic has announced that its North American Aerospace, Defense and Security Division has released a new 90° High Power solder contact.
The new contacts have been added to the standard options for Nicomatic's CMM 220 and 320 series connectors, and are available in male and female versions, and in current ratings of 5, 8, 10, 15 and 20A. Cable sizes range from AWG12 to AWG20.
The 90° contact allows designers to free up space normally taken by the cable bending radius, which can bring big savings when dealing with power cables. Contacts can either be soldered to the cable and then inserted to the connector, or alternatively, all contacts can be fitted to the connector and then the wires soldered. Nicomatic's CMM connector can withstand a soldering iron at 350°C for 5 seconds.
In the CMM220 connector, contacts can be fitted in 2 orientations. This allows a choice of either routing the cables up, down or a combination of both.
CMM connectors are qualified according to MIL-DTL-55302-F and are reliable under vibration at 15g, 100g shock, and from -55°C to +260°C for up to 500 mating cycles.
Nicomatic has developed an online configurator that makes the task selecting the exact needed connector easy and also provides 2D and 3D data.