Nicomatic, a designer and manufacturer of electronic connectors and cables for unmanned systems, has partnered with Unmanned Systems Technology ("UST") to demonstrate their expertise in this field. The 'Gold' profile showcases how their interconnection solutions can be used in a variety of unmanned vehicle applications, such as carrying power, information and video between printed circuit boards (PCBs) and cable assemblies in unmanned aerial vehicles (UAVs) and other robotics and weapon systems.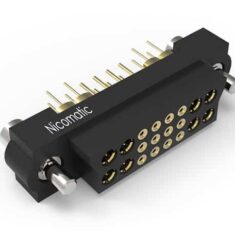 CMM Micro Connectors have been designed to meet or exceed the electrical and mechanical performance criteria of MIL-DTL-55302F and BS-9525-F0033 standards. High power, high frequency and low frequency 2mm contacts can be combined in up to three rows, allowing for more than 20 million possible standard arrangements. This high level of modularity makes the CMM Micro Connectors especially suited for space and weight-contained applications such as unmanned aircraft.
DMM Micro-D Mix Connectors are compatible with MIL-DTL-83513G standards and offer a more flexible choice of arrangements to traditional Micro-D or Sub-D connectors, with more than two million possible configurations. Each connector can mix signal, power and coaxial contacts in up to four rows, encased in either a one-piece or split two-piece backshell.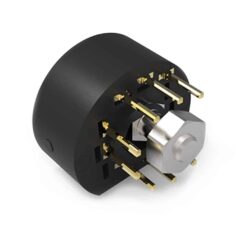 OMM Circular Micro Connectors are designed for board-to-cable interconnection in restricted-space applications such as unmanned vehicles. The compact modular design features up to eight contacts that results in up to 50% weight and space saving compared to a standard CMM 220 connector. Manufactured from oxygen-free PPS material, the connectors are highly resistant to solvents, radiation and humidity.
Microflex Flat Cables, designed to meet MIL-DTL-55302F standards, feature a flat polyester harness with a screw fixing for high-vibration environments and a life expectancy of 10 million jumper mating cycles. With up to 60% weight reduction compared to round cables, Microflex harnesses are ideal for unmanned aerial vehicles and other robotics applications where weight is at a premium.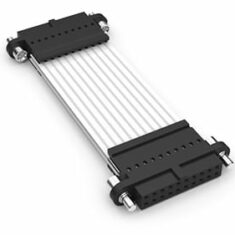 Nicomatic's Custom Solutions department offers the services and interconnect solutions required in the fast-developing unmanned industry, such as the retrofit of obsolete products, standard product modifications and new designs. A dedicated team of engineers works with customers to develop new solutions and reach specific design goals.
To find out more about Nicomatic, please visit their profile page:
https://www.unmannedsystemstechnology.com/company/nicomatic/