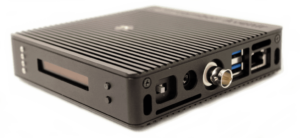 Streambox, a provider of video over IP solutions, has announced the launch of its miniature encoder, the Streambox Drone Encoder Pro. The Drone Encoder Pro is designed to capture and stream HD-SDI or HDMI professional video from camera-equipped UAVs used for news gathering, film production, live events, public safety, agriculture, government and enterprise applications. It is an extremely small form factor, low power network bonding encoder designed to reliably stream HD videos over all available mobile IP networks to globally deployed Streambox Cloud, where video can be routed to desired playouts and streamed over the web.
The Drone Encoder Pro weighs 220 grams and provides more than four hours of operation from an external or UAV battery. Additionally, low power usage and flexible LTE, 3G, 4G and Wi-Fi antenna configurations offer UAV professionals installation flexibility to integrate into many different types of UAV aircraft.
"Broadcasters, Enterprises, Public Safety and Government will use Streambox Drone Encoders in the air and on the ground to uplink real-time video from live events to headquarters or variety of cloud servers for broadcast, multicast, remote monitoring, command and control. We have integrated Qualcomm® Snapdragon™ mobile CPU with Streambox low delay professional MIPI video subsystem, to deliver a true game changer for real-time mobile video for applications, where there is high demand for quality, latency & cloud integration. We took care of the compatibly with mobile cameras like GoPro." said Alex Telitsine, CTO and Co-Founder of Streambox.
The Streambox Drone Encoder Pro is designed to deliver incredible flexibility to professional video users. It combines the power, performance and professional-quality results in a miniature device for live HD video encoding and streaming. The Drone Encoder Pro includes HD-SDI & HDMI video capture integrated into the mobile hardware for professional SDI and HDMI cameras. Drone Encoder Pro is equipped with GPS, Bluetooth 4.0, 5G/2.4G Wi-Fi, gravity sensor, USB3 and SD card for onboard storage. The unit is designed to be extended via 30-pin expansion connector and is compatible with the Streambox Signal Extender product offering for in-vehicle and on the ground mobile operation. The Drone Encoder Pro works seamlessly with Streambox Cloud and Enterprise Server for video contribution and management to deliver superior high-definition video with low latency.