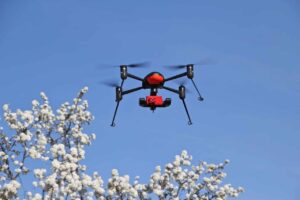 Draganfly Innovations Inc., a manufacturer of small Unmanned Aircraft Systems (sUAS), has released an all-inclusive agricultural imaging solution that can plan, fly, and process advanced multispectral data. The Draganflyer Pro-Ag package is a comprehensive and powerful tool for farmers and researchers to gather the information needed to make better decisions.
The Draganflyer Pro-Ag package consists of a compact, ready-to-fly vertical take-off and landing UAV, rugged transport case, Draganfly Surveyor flight planning software, the third generation MicaSense RedEdge 5-band multispectral camera, and 2-axis stabilized gimbal. Built for efficiency, Draganfly Surveyor is easy to use and allows multi-flight mapping in situations when the project requires multiple flights to cover the area. Surveyor will automatically "join" the flights to create one seamless project.
The collected imagery is used to assess the health of crops and identify damage caused by pests or invasive weed growth. The scientific-grade multispectral imagery provides accurate and repeatable crop health maps so that the proper corrective course of action can then be determined. The combination of the MicaSense RedEdge and Draganflyer UAV provides a quick and effective solution for agricultural consultants and farmers worldwide.
"Draganfly Innovations is known for high quality, lightweight UAVs and with just one look at what the RedEdge can do, we were on-board to integrate this new payload to create a professional agricultural package to offer to our customers worldwide," said a representative from the company.