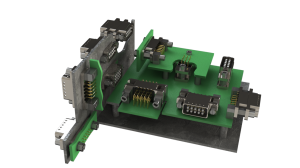 Nicomatic, known for its CMM series connectors used in on-board electronics in defence and avionics, has launched the new DMM series of ruggedized connectors.
The DMM series is a robust, compact and shock resistant connector registered under trademark MICRO-D-MIX. It is available in an all LF or mixed-layout configuration, with high frequency and/or high power contacts with possible arrangements of between 1 and 4 rows of contacts with up to 120 contacts.
DMM connectors offer a high pin density (2mm pitch for signal contacts), as well as hybrid contacts (low frequency, high frequency, high power), which contribute to equipment miniaturization. Compared to Nicomatic's Micro-D connectors they offer a higher density, a lower profile and a much lighter solution.
The newly presented standard product range includes 2 product families:
Classic DMM series: LF contacts, for harness applications or Printed Circuit Boards, available in most popular shell sizes from the Micro-D market. These new connectors are easy to choose and fast to deliver with an affordable price.
– LF contacts
– From 2 to 3 rows, 10 to 90 LF contacts
– Over 200 arrangements
My DMM series: LF, HF, HP or hybrid connectors, a range based on multi-contact arrangements, offering free positioning with pre-defined shell sizes. This new series offers custom design possibilities with the advantage of an off-the-shelf product.
– Mixed layout
– From 1 to 4 rows, 2 to 120 LF contacts, 1 to 30 HP/HF contacts
– Panel mounting, racking and locking
– Over 20,000 arrangements
A third series called Exclusive DMM allows a much higher number of arrangements. Customers can specify any type of contacts, length or shell size for unique technical constraints. These new bespoke connectors optimize space and weight savings. Over 2 million arrangements are possible.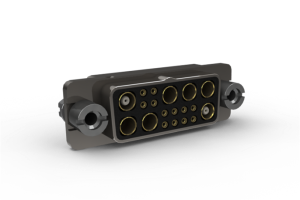 Nicomatic fixings are the same whether you use a male or female connector, covers are mountable without modifying the front or rear panel and the philosophy of the system is to be modular with simple and universal concepts.
Their compact design is ideal for miniature and portable devices or equipment used in the field, as well as on-board electronics, rack and panel. For example the right angle (V type) connector offers the most compact solution currently available in the market.
The connectors are designed and tested to withstand extreme conditions and their spec covers performance requirements in compliance with MIL-DTL-83513G (Micro-D standard).
In creating a connector system with a lower profile than the traditional MICRO-D, and in using standard components (fixings, HF, HP, LF contacts etc.), the cost of the product is reduced.
The new DMM Series offers a number of benefits:
– Saves space: low profile, high density package & small footprint
– Full modularity: signal, power & coax
– Easy maintenance: removable crimp contacts
– High flexibility: Front, rear panel mount…
– Short lead-time: Fast availability vs. Micro-D, low MOD
– Affordable: cost effective solution
– Reliable: MIL-DTL-83513G