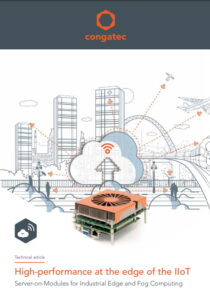 congatec has released a technical article highlighting the use of specialized Server-on-Modules for Industrial Internet of Things (IIoT) edge and fog computing applications. The ever-expanding Internet of Things, in conjunction with increasing network bandwidths, is significantly changing the way these applications are designed, and IoT servers are in demand for a wide variety of drone and unmanned vehicle applications such as surveillance and monitoring.
Read the full article on congatec's website here
The article covers:
The difference between edge and fog computing
How client/server computing infrastructure is changing in the IoT era
The features and advantages of congatec's new class of server-grade computer modules
COM Express Type 7 – the next step in the evolution of Server-on-Modules
To find out more about how congatec's Server-on-Modules can be used to develop next-generation industrial-grade edge and fog server applications, read the full article on congatec's website.