Event
Military Radar Summit 2019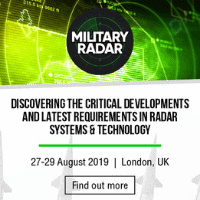 About Military Radar Summit 2019
Defence IQ are delighted to announce the return of the Military Radar Summit, taking place in London, 27-29 August 2019. The summit brings together senior air defence strategists, capability experts and renowned academics developing new radar capabilities and advanced early warning systems.
Over the three-day summit we will examine the latest  advancements and initiatives in radar systems; assessing new developments in AI to develop cognitive radar systems, technical advances to enable  passive and 3D phased array systems, and advanced target tracking innovations utilising Active and Passive Electronic Scanning Array and strategic challenges of airborne surveillance.
With sessions led by leading technical research institutes and strategists looking to deploy these new systems on operations, the Military Radar summit will continue to inform the future of Military Radar.
Key topics discussed:
Strategic Future Challenges
Cognitive Radar Networks: The future of AESA radar and AI's use in
Low Frequency Radar and VHF utility in a counter-UAV role
Phased Array vs. Passive Radar systems
Future utility of early warning systems
Electronic Warfare as an enabler and constraint for operations
Exclusive Radar Content:
Past Presentation 2018- Innovative Radar Solutions: http://bit.ly/PastPresentationInnovativeRadarSolutionsSAAB
5 Key Realities of Countering Drones : http://bit.ly/5keyRealitiesofCounteringDrones
Principles of Modern Radar: http://bit.ly/PrinciplesofModernRadar
Early Bird Discounts:
Book by 26th April- to Save £400!
Book by 24th May to Save £300!
Book by 21st June  to Save £200!
Book by 26th July to Save £100!
Register Here: http://bit.ly/MilitaryRadar2019Register
More Information and Registration
To learn more about Military Radar Summit 2019, to register to attend or exhibit, please click below.