Dolphin 1 – Remote Controlled Lifebuoy
The Dolphin I Smart Lifebuoy is an easy-to-use, remote controlled life-saving device that can be used for water-based rescues. Powered by two water-jet propellers, the lifebuoy has a maximum top speed of 10kn/s, allowing it to reach persons in distress quickly.
The Dolphin I remote controlled lifebuoy is bright orange and mounted with two high penetration flashing fog lights, making it highly visible over long distances and in challenging conditions. The propellers are wrapped in a metal shell to protect the user from injury and prevent entanglement with water plants. The lifebuoy can carry two persons.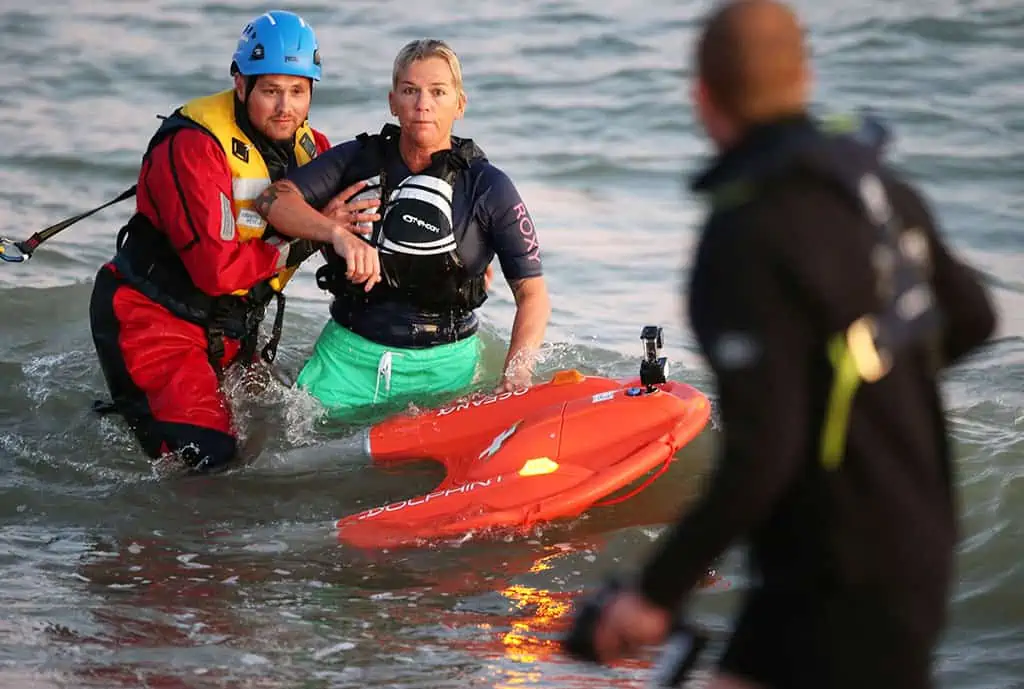 ① Innovative Technology to Save Lives
The Dolphin 1 is a self-powered electric water rescue device which is directed by a remote controller. It's an innovative technology that fills the gap between traditional foam buoys and jet skis as it is more precise, cheaper to deploy, and safer for rescuers.
② Easy Operation
The Dolphin 1 is controlled by a simplified remote controller. Pressing the trigger can drive it forward; while rotating the knob can turn left or right. Any first-time user can learn to operate it in seconds.
③ Powerful Propeller & strong Buoyancy
With a maximum speed of 12km/h, Dolphin 1 can cut through waves and torrents to reach a troubled swimmer within the golden rescue minute.
The Dolphin 1 provides a buoyancy that is equivalent to 2 regular buoys, allowing it to carry multiple casualties in one action.
④ Highly Visible
The Dolphin 1 is bright orange and mounted with two high penetration flashing fog lights, making it easy to track by eyesight over long distances and in bad weather.
⑤ Injury & Tangle Free
A tailor-made shell over the propellers makes it very safe for a panicking casualty to grab or pull randomly. It can also avoid entanglement with water plants or debris when the Dolphin 1 is operating in dirty water areas.
⑥ Reliable and Safe
The batteries are stored in a water-tight independent cabin so that even if the hull is damaged accidentally, the Dolphin 1 can keep functioning and bring a casualty back to shore safely.
Specifications:
| | |
| --- | --- |
| Dimensions | 1.19m x 0.85m x 0.2m |
| Range | 800m |
| Endurance | 30min @ 3.3m/s |
| Floatability | 225kg |
| Weight | 13kg |
| Max Speed | 3.3m/s |
| Propulsion | Electric Water-jet Thruster |