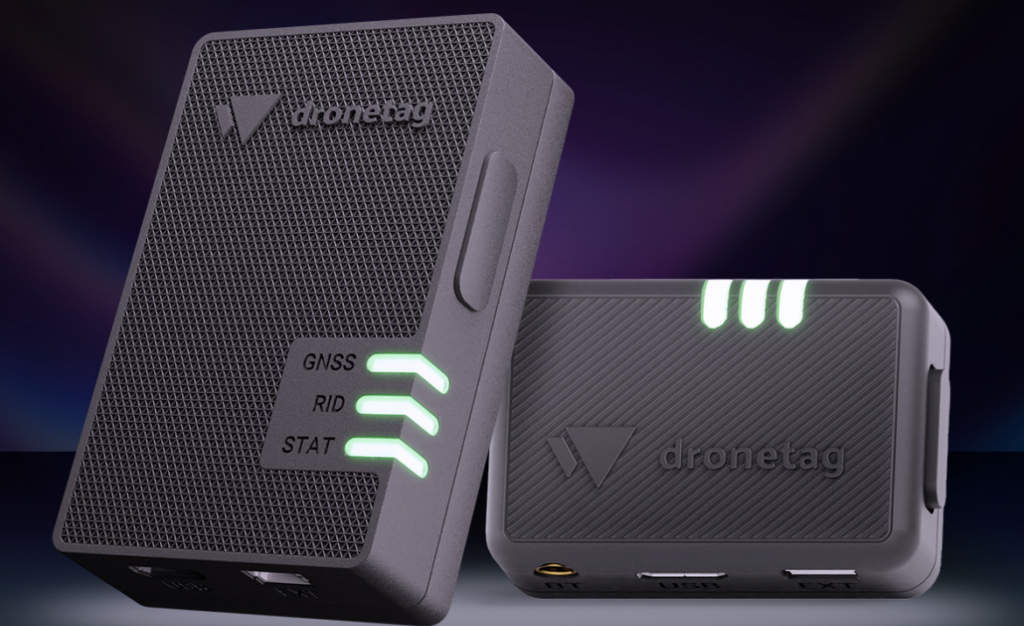 Drone Nerds has become the exclusive US distributor for the Dronetag Mini and Dronetag Beacon.
Specialized in Remote ID capabilities, Dronetag has developed groundbreaking solutions to help drone pilots stay compliant with airspace standards and improve safety.
The Dronetag Mini, a professional Remote ID device attachable to any drone, has been designed with expert pilots in mind. With Network Remote Identification, it is possible to transfer the drone's position and identification to Dronetag's cloud, enabling advanced drone operations and coordination of manned and unmanned traffic in the same airspace.
In addition, with the Direct (Broadcast) Remote Identification, the drone's information is transmitted via Bluetooth to up to 1.86 miles, ensuring compliance with regulations and safe flight.
Attachable to any drone with a strong re-closable dual-lock fastener, the Dronetag Mini also features internal GNSS, LTE, and Bluetooth antennas, and offers up to 14 hours of battery life. It utilizes DTLS encryption, includes multiple sensors for added security, and is compliant with the newest Remote ID standards.
Dronetag Beacon: Meeting Compliance Requirements with Precision
In response to evolving regulations, the Dronetag Beacon provides a compact solution to make drones digitally visible. The tiny device transmits the drone location via Bluetooth to up to a 1.86 mile range. Up to 16 hours of battery life gives pilots enough time to accomplish the toughest missions. It has worldwide supported Bluetooth technology and the finest geolocation standards.
The Dronetag Beacon also offers secure data transmission, multiple geolocation standards, internal Bluetooth & GNSS antennas, precise sensors onboard, and support for MAVlink & DJI A3.
"As the landscape of drone regulations evolves, ensuring safety and compliance becomes paramount for drone operators. The Dronetag Mini and Dronetag Beacon, now exclusively available in the United States through Drone Nerds, empower drone pilots with the tools they need to navigate airspace safely. We are proud to be at the forefront of this technological revolution, providing our customers with cutting-edge solutions that align with the latest remote ID regulations," said Jeremy Schneiderman, CEO of Drone Nerds.
"The future of drone technology is taking flight as Dronetag and Drone Nerds embark on a visionary partnership. I'm excited about the endless possibilities this collaboration brings. Our FAA-approved Remote ID devices and UTM solutions, combined with Drone Nerds expansive reseller network, will redefine the US drone landscape. This is not just about products; it's about shaping a future where our shared vision transforms the skies and sets unprecedented standards for safety and innovation. Together, we're pushing the boundaries of what's possible in the drone industry," added Lukáš Brchl, Founder & CEO at Dronetag.