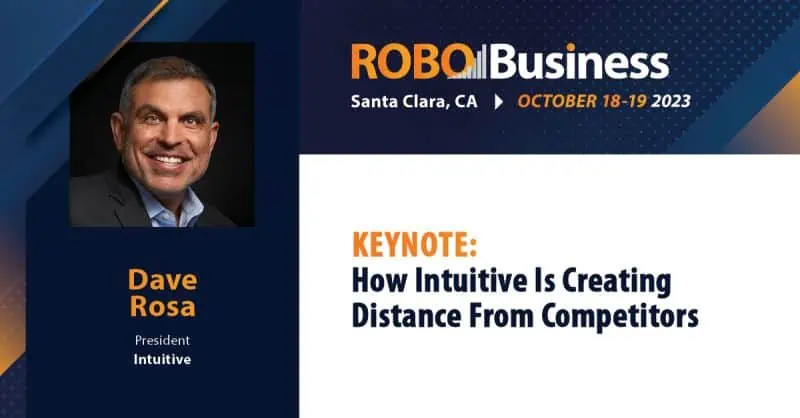 Dave Rosa, President of surgical robotics company Intuitive, will be a keynote speaker at RoboBusiness 2023.
Attendees to the event on October 18-19 in Santa Clara, CA, will hear how the company is building engineering and sales teams to bring its systems to more hospitals in the US and abroad.
Register here for RoboBusiness 2023 >>
At Intuitive, Rose leads the company's core business and drives product and commercial excellence. Rosa joined Intuitive in 1996, and since then has held a variety of senior leadership roles overseeing commercial, marketing, business development, and corporate development.
Rosa holds a B.S. in mechanical engineering from California Polytechnical University at San Luis Obispo, and an M.S. in mechanical engineering from Stanford University. Before joining Intuitive, Rosa contributed to the development of trans-esophageal transducers for Acuson Corporation.
RoboBusiness is the leading event focused on developing commercial robots. There will be 60-plus speakers, 100-plus exhibitors and demos on the expo floor, networking receptions, the Pitchfire Robotics Startup Competition and more.
Check out the current list of speakers, with more to be added soon.
RoboBusiness will be co-located with the Field Robotics Engineering Forum, an event focused on successfully developing robots that operate in wide-ranging, outdoor, dynamic environments.
Also co-located with RoboBusiness is DeviceTalks West, the premier industry event for medical technology professionals, currently in its ninth year. Both events attract engineering and business professionals from a broad range of healthcare and medical technology backgrounds.