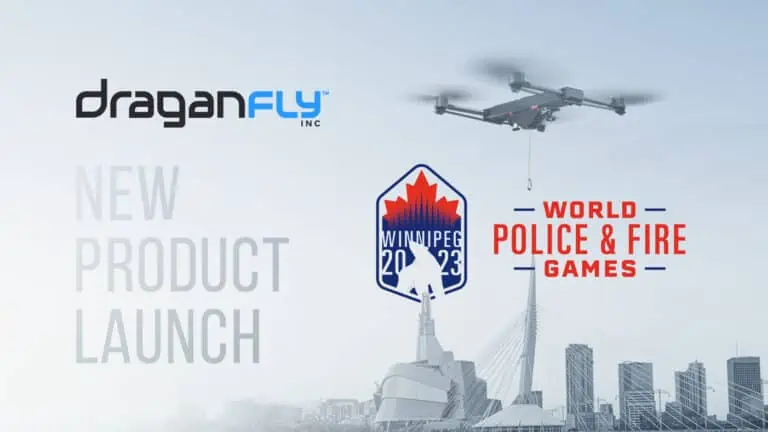 Draganfly Inc. will introduce its new Precision Delivery System during the World Police and Fire Games (WPFG) in Winnipeg, Manitoba, July 28th to August 6th, 2023.
The system has been granted a Special Flight Operations Certificate (SFOC) for a Remotely Piloted Aircraft System (RPAS), which signifies Draganfly's technology has met stringent safety and operational standards, and grants the company permission to conduct drone flights beyond the confines of basic or advanced operations.
Integrated with Draganfly's Commander 3 XL drone, the Precision Delivery System provides a drop-down winch system for safe and precise delivery, a quick-release delivery box for efficient unloading, and POV cameras for enhanced situational awareness. This advanced system combines cutting-edge technology and precision engineering, providing unmatched efficiency, speed, and reliability for delivering vital supplies and equipment to first responders on the front lines.
"It's an incredible opportunity to have our newest product, the Precision Delivery System, take center stage as the world's first drone to be the official flag bearer during the World Police and Fire Games in Winnipeg," said Cameron Chell, President and CEO of Draganfly. "We will be demonstrating to Draganfly's cutting-edge capabilities, highlighting our commitment to providing innovative drone solutions to first responders and public safety professionals."
Draganfly's will be located at booth 21 in downtown Winnipeg's RBC Convention Center from July 26th to 29th 2023, where attendees will have the opportunity to explore the capabilities of the company's Vital Intelligence Technology, Heavy Lift drone, Commander 3 XL, equipped with the Precision Delivery System.