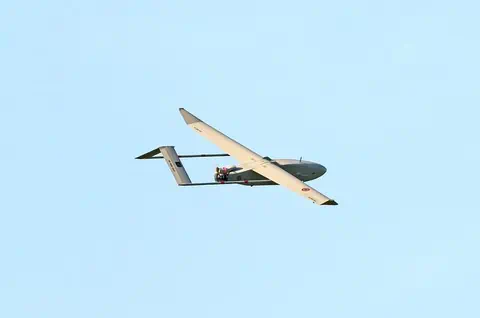 Dassault Systèmes has announced that Sky Eye Systems, an Italian startup specializing in the development of unmanned aerial solutions, used the 3DEXPERIENCE platform on the cloud to manage the certification process of its lightweight drone, the Rapier X-25.
The Rapier X-25 achieved the highest safety certification from the Italian government for a drone of its weight, making it the only system in the mini class authorized to fly without restrictions.
Sky Eye Systems had been using Dassault Systèmes' solutions to design the drone, and wanted to accelerate and facilitate its certification by bringing full visibility and traceability to the product development life cycle.
It implemented the "Reinvent the Sky" industry solution experience based on the 3DEXPERIENCE platform to connect legacy design data to a cloud-based environment in which designers and engineers could work simultaneously and effectively on the same virtual twin with a real-time view of all development.
The 3DEXPERIENCE platform on the cloud was a clear choice for the startup, allowing it to get up to speed without needing an established server infrastructure or making a big upfront investment. A seamless flow of data enabled teams to manage and show the workflows and history related to design changes that comply with stringent industry standards.
"Our teams already see the benefits of working on the 3DEXPERIENCE platform. It is clear that it can answer our needs, now and in the future," said Filippo Carraresi, Chief Commercial Officer, Sky Eye Systems. "Now that the Rapier X-25 is certified, we are using the 3DEXPERIENCE platform to develop other models that share some of the technology, and ensure that the changes we made to Rapier configurations carry through into these models. The cloud enables us to accelerate time to market and the development of new systems for specific applications. We aim to save at least 30% in product development time and meet key milestones."
Designed for applications including civil protection, pollution control and land surveillance, the Rapier X-25 weighs up to 25 kg and boasts a 10-hour flight endurance, a 90-km datalink range, and sophisticated onboard sensor payload capabilities. Its compliance with strict airworthiness and military operational requirements by the Italian Directorate of Air Armaments and Airworthiness (DAAA) is recognized by NATO, making it extendable to other countries in the European Union.
"The 3DEXPERIENCE platform on the cloud helps companies accelerate the product lifecycle from concept to certification and gain critical first mover advantage," said David Ziegler, Vice President Aerospace and Defense, Dassault Systèmes. "In three years, Sky Eye Systems leveraged the platform's long-established methodologies and best practices for compliance in the aerospace and defense industry to develop one of the safest, most efficient and sophisticated drones on the market in its weight category. New ways of working open up new opportunities to unleash sustainable innovation."
Find developers of Simulation Software for unmanned systems >>