The growing prominence of ground-based robotic systems has highlighted the critical need for integrating autonomous capabilities in military operations. Enhanced lethality, improved options, and a degraded threat are some of the benefits of adopting autonomy-based technologies.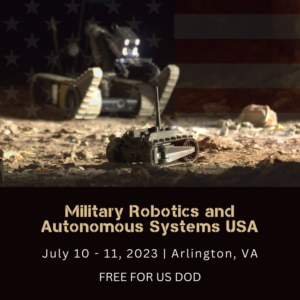 Military Robotics and Autonomous Systems USA, North America's most anticipated conference in the field of military land robotics, is set to take place from July 10-11 at the Hilton Arlington Hotel, Virginia, providing a platform for experts to discuss current challenges and future priorities for advancing the best autonomous capabilities to maintain operational advantage in a rapidly evolving battlespace.
Featured expert host nation speakers at this year's conference include:
Chairman: Mr Stuart Hatfield, Robotics Branch Chief, US Army
Colonel Danielle Medaglia, Project Manager for Unmanned Aircraft Systems, PEO Aviation
Colonel Jeffrey Jurand, Project Manager, Maneuver Combat Systems, PEO Ground Combat Systems
Lieutenant Colonel William L. Taylor, Executive Officer to DASA PPR, SAAL-ZR, ASA(ALT)
Dr Chad Kessens, Senior Robotics Research Scientist, Autonomous Systems Branch, DEVCOM Army Research Laboratory
Dr Kimberly Sablon, Principal Director for Trusted AI and Autonomy, Undersecretary of Defense for Research and Engineering (USD(R&E))
Dr John Fossaceca, Program Manager for Artificial Intelligence & Machine Learning for Maneuver & Mobility, US Army Research Laboratory
Dr Robert Sadowski, Army Chief Roboticist, Ground Vehicle Systems Center, AFC Combat Capabilities Development Center
Mr Frank Marotta, Senior Mathematician, Virtual Testing and Advanced Electronics (VTAE) Directorate, US Army Aberdeen Test Center, US Army Test and Evaluation Command
Mr Jim P. Allen, PE, Technical Director, Operational Science and Engineering, US Army Engineer Research and Development Center
Mr Marshal Childers, Mechanical Engineer, Military Information Experimentation Branch, Science of Intelligent Systems Division
Mr Michael T. McCarthy, Deputy Director/Chief of Staff, Close Combat Lethality Task Force (CCLTF)
Mr Mike Mays, CBRN Robotics & AI Integration, Chemical Biological Center
Mr Stuart Hatfield, Robotics Branch Chief from the US Army, the Conference Chair and a keynote speaker, said: "We must go outside of our national bubbles and cross-pollinate with our allies and partners, to understand where technology is going, what they are seeing, especially in the European theater right now with the Ukraine situation.
"We are going to build on the success of last year at this event…Not only the speakers but also members participating in the audience that will be on hand to really cross-pollinate some of those great ideas with better ways of improving the lives of the war fighter."
Military Robotics and Autonomous Systems USA 2023 is a must-attend for RAS program managers, researchers, academics, technical industry experts and senior military figures looking to work collaboratively to forge ahead and deliver the very best autonomous capabilities.
View the full agenda and register for the conference today>>


Proudly Sponsored by Ghost Robotics and Silvus Technologies
For sponsorship, speaking and branding opportunities, contact Callum Kenmure, Sponsorship Manager, at [email protected].
The event is free to attend for US Military and DOD personnel (excl. contractors). For more information, please contact Victoria Ayuso, Conference Producer, at [email protected].