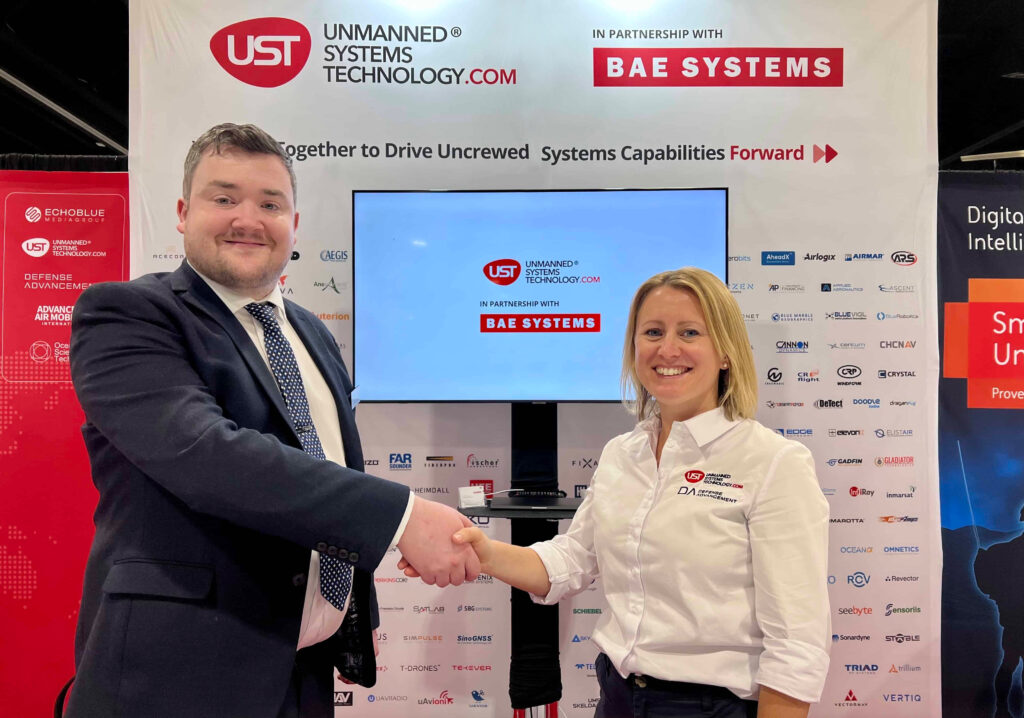 Unmanned Systems Technology (UST), the global online marketplace and network for technology businesses within uncrewed and autonomous systems, has signed a new partnership agreement with BAE Systems Digital Intelligence.
The agreement is an extension of a successful collaboration between the two organisations piloted in 2022 and aims to put SMEs and technology providers at the forefront of plans for Small Uncrewed Systems at BAE Systems Digital Intelligence, with closer SME engagement facilitated by UST.
At a networking event attended by over 150 members of UST's ecosystem, Jonny Gilchrist, Business Development Executive at BAE Systems, outlined the importance of the new venture and some of the plans for the future of the partnership, including bespoke events that will provide SMEs the opportunity to showcase their cutting edge technologies and increase collaboration within the industry.
"We are excited to extend our close working relationship with BAE Systems and are delighted that the UST platform can provide further opportunities for SMEs within the industry to start conversations with a genuine vendor-agnostic Prime. This is an important step forward for the sector and we look forward to seeing new technologies being developed as a result of this collaboration" commented Caroline Rees, CEO of UnmannedSystemsTechnology.com.
Jonny Gilchrist explained, "The work UST does is invaluable in connecting the SME community to larger organisations, like ourselves, and providing opportunities to share knowledge from both sides of the ecosystem. The UST platform is a fantastic resource for industry and there's a natural synergy between our organisations as we look to the future of uncrewed and autonomous systems."
"The partnership demonstrates our commitment to SMEs and will shape the future of the small uncrewed systems market. SMEs bring many benefits such as agility, both in terms of reacting to market needs and developing innovative technologies, key areas that large organisations recognise the value of but can often struggle to progress internally at the same pace. UST holds an incredible ecosystem of innovators and we're excited to support that community and meet SMEs at our upcoming events with UST, as we strive to increase collaboration within the uncrewed systems sector."
Established in 2011, UST works with hundreds of technology and engineering-focused businesses across the global supply chain, ranging from SMEs to multi-billion-dollar OEMs. With a footprint in over 200 countries across all continents, UST has the largest professional global audience within the uncrewed and autonomous systems sector, showcasing the technical capabilities of each partner to generate year-round exposure and demand.
This first-of-its-kind partnership will give engineers at BAE Systems direct access to a wide range of innovative and emerging technologies, to increase the capabilities of small uncrewed systems platforms being developed.