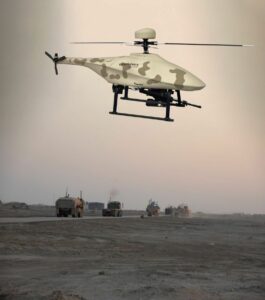 Steadicopter, a designer and manufacturer of state-of-the-art fully autonomous Rotary Unmanned Aerial Vehicles (RUAV) for defense, homeland security and civil applications, presented its new Golden Eagle RUAV at the Defence Exhibition Athens (DEFEA), 9-11 May 2023.
Golden Eagle was designed to provide tactical maneuvering forces with remote terrain dominance and pinpoint accurate lethal capabilities.
According to Steadicopter, Golden Eagle is the first unmanned helicopter with precise strike capabilities, from the air, enabling both military and security forces to meet the challenges of the modern battlefield and complex environments.
Based on the combat-proven Black Eagle 50E platform, Golden Eagle utilizes advanced AI-based technology and a remotely operated smart robotic weaponry payload. AI-based technology enables superior situational awareness and autonomous multi-target classification and tracking, while the payload locks on the target, tracks it and ensures a precise target elimination.
Golden Eagle integrates Smartshooter's SMASH Dragon system – a stabilization concept with proprietary target acquisition, tracking algorithms and computer vision capabilities that allow accurate hitting of static and moving targets. The system can employ various types of assault rifles, sniper rifles, 40mm and other munitions with great precision.
Lightweight, which therefore enables long mission endurance, cost-effective, simple to operate, and easy to maintain, Golden Eagle has Vertical Take-Off and Landing (VTOL) capabilities for successful mission completion.