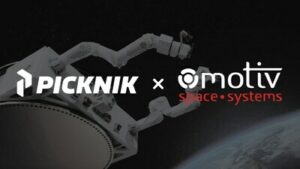 PickNik Robotics and Motiv Space Systems have formed a partnership to develop advanced robotics for space applications, with the goal of advancing In-Space Servicing, Assembly, and Manufacturing (ISAM) capabilities through the integration of PickNik's MoveIt Studio technology for robot arm control and Motiv's xLink robot arm product line.
PickNik Robotics, known as the Unstructured Robotics Company, has a 10-year heritage in advanced robotics control software and has received SBIR Phase 3 funding from NASA to develop advanced planning capabilities for robots in microgravity environments.
The company has also developed a commercial-off-the-shelf product for supervised autonomy called MoveIt Space, which is designed for space missions. Additionally, PickNik Robotics has been collaborating with NASA and various commercial space companies to lead the development of Space ROS, a flight-certified version of the Robot Operating System (ROS).
Motiv Space Systems has a decade of heritage in designing and manufacturing space systems for commercial and scientific applications, including Mars, Earth orbit, the Moon and beyond.
Motiv Space Systems is the creator and manufacturer of the xLink robot arm system, which is designed for EVA and IVA robotic applications. The company, in collaboration with JPL, has also been developing the COLDArmrobotic system for operation in cryogenic temperatures down to -180C for operations in the permanently shadowed regions on the lunar surface.
Under the MoU, the two companies will jointly pursue applications in the ISAM domain using Motiv's hardware and PickNik's high-level robotics control software capabilities. PickNik will also provide advanced robot capabilities on Motiv's hardware, including the xLink and other robotic systems.
"We are really excited to partner with Motiv to advance ISAM capabilities with more capable robots," said Dr. Dave Coleman, CEO at PickNik. "Our collaboration with Motiv aims to change what's possible in future space missions, with multi-purpose robots augmenting humans in intelligent and collaborative ways previously not thought possible. Together our companies seek to engage commercial space groups and government agencies to enable the next stage of robotic capabilities."
"We are thrilled to partner with PickNik Robotics to leverage their advanced robotics control software capabilities in the widely used ROS architecture," said Chris Thayer, President and CEO of Motiv Space Systems. "Together, we can realize the potential of ISAM applications to revolutionize space exploration through the use of modular hardware and software, and we look forward to future collaborations and partnerships with PickNik Robotics."