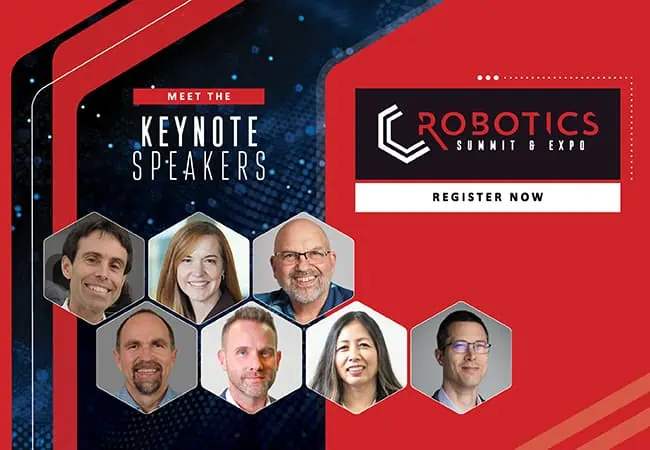 Taking place May 10-11 at the Boston Convention and Exhibition Center, this year's Robotics Summit & Expo has an exceptional lineup of keynote speakers. Visitors will hear from the leaders of robotics companies such as Agility Robotics, Intrinsic, Motional, Johnson & Johnson Medtech, AI Institute, Carnegie Mellon University, Nauticus Robotics, and more.
Don't miss your chance to hear from these leaders along with an impressive lineup of additional speakers during the two-day event.
Register now and use code UST25 for 25% off your full conference pass.
An exclusive look into some of the keynote presentations:
The Future of Surgical Robotics
Martin Buehler, Johnson & Johnson Medtech
Johnson & Johnson, one of the world's leading healthcare companies, gives an inside look at the end-to-end development of its Monarch and Ottava robotics platforms, as well as strategy and innovation cadence across surgical robotics for MedTech.
Idea to Reality: Commercializing Robotics Technologies
Howie Choset, Carnegie Mellon University
Turning a technology developed inside a lab into a successful robotics company is no easy task. Howie Choset has done this several times with companies such as Medrobotics (surgical robots), Hebi Robotics (modular robots) and Bito Robotics (robot software). Choset will share insights about the robotics startups he founded and best practices for taking technological innovation from an idea to reality.
Inside Motional's Autonomous Vehicle Journey
Laura Major, Motional
Laura Major will detail the major technical challenges involved with developing autonomous vehicles. She will also provide updates on recent deployments and what the future holds for autonomous vehicles.
Robots for Final Frontiers
Nicolaus Radford, Nauticus Robotics
Explore how developing humanoids for NASA and space applications led to the creation of Nauticus and its ocean robotics portfolio. Hear about lessons learned along the way and what's next for ocean robotics.
The Next Decade in Robotics
Marc Reibert, AI Institute
This fireside chat with Marc Raibert will discuss opportunities for the robotics industry and the most important and difficult challenges facing the creation of advanced robots. It will also describe how the new Boston Dynamics AI Institute is pushing the limits of technological innovation to solve these challenges.
Explore the full event agenda here>
Register now to join these leaders at the 2023 Robotics Summit.