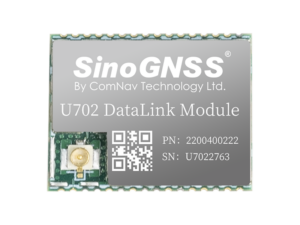 ComNav Technology has introduced the U702, a new OEM datalink module that supports advanced CSS digital modulation technology. With a footprint of just 17 x 22 mm, the surface-mount module is highly suited for integration into a wide variety of drone and robotics designs, and is ideal for real-time GNSS RTK data transmission.
The U702 supports LoRa (long range) radio modulation and frequency-hopping, providing a working distance of up to 1.5 km with an extremely low power consumption of just 0.025W. The robust module provides protection against various forms of interference, resulting in high reception sensitivity, low error rate, and highly reliable data transmission even in harsh environments.
The module operates on several different frequency bands (410-470/863-870/902-928 MHz) and has been certified to both CE and FCC standards, making it suitable for consumer drone and robotics applications.