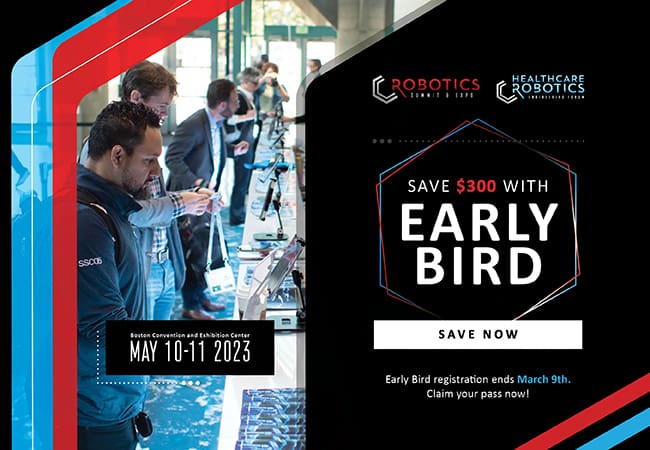 Taking place 10-11 May 2023 at the Boston Convention & Exhibition Center, the Robotics Summit & Expo will bring together the brightest minds in robotics to share their commercial robotics development experiences.
Conference programing will provide professionals the information they need to successfully develop the next generation of commercial robots.
Early bird registration for the event ends 9 March. Buy your full conference pass before then to save $300 and gain full access to the world's leading event dedicated to commercial robotics development.
The Robotics Summit keynote speakers include the following:
Howie Choset, Professor of Robotics, Carnegie Mellon University
Idea to Reality: Commercializing Robotics Technologies
Laura Major, CTO, Motional
Scalable AI Solutions for Driverless Vehicles
Marc Raibert, Executive Director, AI Institute
The Next Decade in Robotics
Martin Buehler, Global Head of Robotics R&D, Johnson & Johnson MedTech
The Future of Surgical Robotics
Nicolaus Radford, CEO, Nauticus Robotics
Developing Robots for Final Frontiers
The expo hall at the Robotics Summit will have more than 150 exhibitors showcasing their latest enabling technologies, products and services that can help robotics engineers throughout their development journey. The Robotics Summit also offers networking opportunities, a Career Fair, a robotics development challenge and much more.
Tickets can be purchased here>
Hotel accommodation can be booked at a discounted rate here>