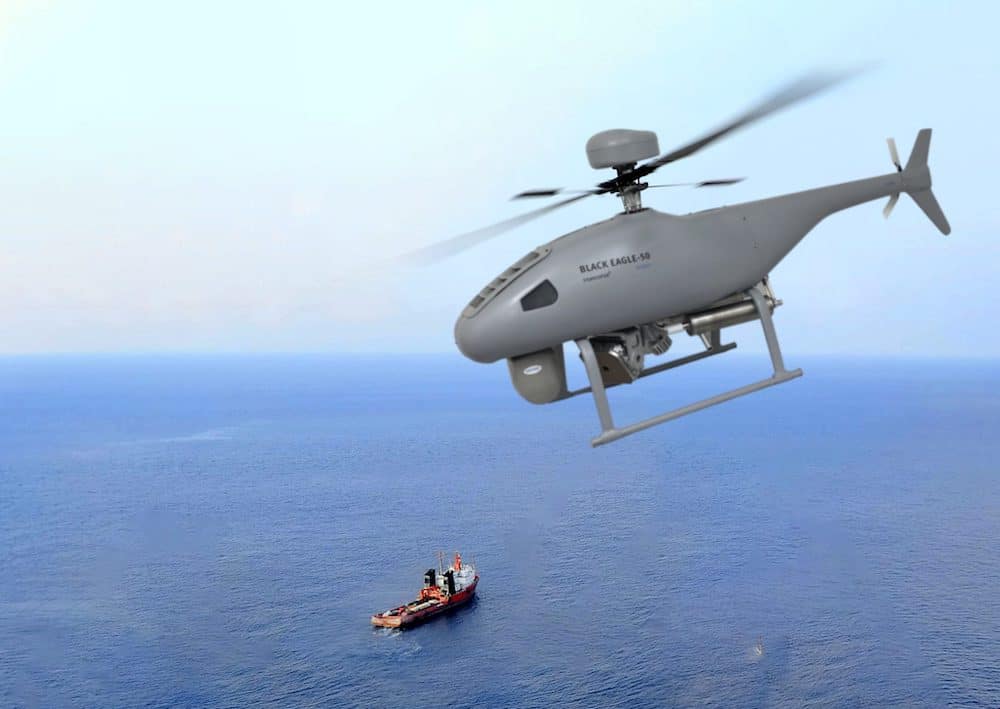 At the IDEX 2023 event in Abu Dhabi, Steadicopter and BIRD Aerosystems are unveiling the BlackEagle 50H (BE50H) – a hybrid unmanned helicopter, featuring a miniature airborne radar with advanced proprietary technology, for use in maritime intelligence missions.
Advanced capabilities for long endurance of up to five hours, together with BIRD Aerosystems' Micro Maritime Patrol Radar (µMPR) capabilities for the detection and tracking of maritime vessels, enable the BE50H to carry out accurate mapping of all vessels within a radius of 200 km within a few hours, in harsh environmental conditions, day or night.
The companies believe the BE50H provides users with a cost-effective solution for both ISR and pinpoint CAS operations, in both the land and maritime domains, by enabling a unique combination of impressive flight endurance and a versatile sensor suite.
Coupled with the µMPR, the BE50H provides a combination of a small tactical rotary UAS (with a near-to-zero operational, maintenance and logistic footprint), capable of wide-area persistent surveillance and coverage for long durations on the one hand, with all the advantages of the rotary UAS, such as persistent hovering, which enable additional concepts of operations for many mission applications, on the other.
Implementing sophisticated patented design features, together with powerful signal processing algorithms, BIRD Aerosystems' µMPR can detect and track maritime vessels with 100% identification accuracy, according to the company. Implemented in a single small Line Replaceable Unit (LRU), the µMPR is extremely lightweight, with very low power consumption. It can be installed in conjunction with AIS and an Electro-Optical Infrared (EO/IR) payload, perform automatic cross-cues between the radar and the EO/IR sensor to confirm target identification, and automatically inform ground control using a precise geo-reference.

"Maritime border protection is one of the most prominent needs in the world today," said Noam Lidor, VP Sales, Marketing & Business Development at Steadicopter. "The combination of the proven advantages of a hybrid unmanned helicopter system with long flight endurance that enables coverage of large maritime surfaces, with radar capabilities for identifying and locating hostile ships at ranges of several tens of kilometers, provides the vessel's crew with an accurate intelligence picture within a wide radius of hundreds of kilometers, thereby giving them a significant advantage for mission success."
"Ideal for the protection of maritime borders and strategic assets, BIRD's innovative µMPR cuts through sea clutter and significantly increases mission effectiveness and cost efficiency," said Ronen Factor, Co-CEO and Founder of BIRD Aerosystems. "Small and lightweight, it can easily be installed on unmanned aerial systems, such as Steadicopter's BlackEagle 50H, to create a cost-effective surveillance platform with excellent performance."