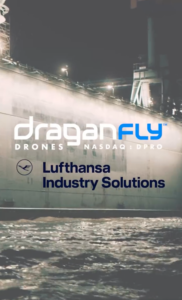 Drone solutions and systems developer Draganfly has confirmed that Lufthansa Industry Solutions has entered into a letter of intent with Draganfly to explore providing its drone solutions and Vital Intelligence (VI) technology for use in its existing infrastructure and customer solutions.
Lufthansa Industry Solutions plans to integrate Draganfly's Vital Intelligence technology into its Artificial Intelligence as a Service (AIaaS) platform, a package that offers a quick and easy solution for businesses trying to achieve digital transformation.
Draganfly's VI is software that uses video feed from simple RGB cameras to measure biometric data and share human experience and health insights. This technology will assist Lufthansa Industry Solutions in providing the maritime industry with the highest information technology and performance monitoring standard. The company's drone solutions will be integrated for deployment during marine search and rescue operations and for reconnaissance purposes, with the aim of adding another layer of safety and security for crew members and passengers.
Draganfly's search and rescue drones are high-endurance, multirotor UAVs capable of utilizing the company's optical and infrared imaging solutions during an active emergency. The drones can be used to thoroughly map certain areas, locate survivors, and begin measuring core vitals.
The reconnaissance drones provided by Draganfly can carry out inspections of cargo and potential hazards on the water. This UAV is a high-endurance, drone that utilizes optical and imaging solutions.
"We are thrilled to partner with Lufthansa Industry Solutions and provide our versatile AI technology for use in their current infrastructure," said Cameron Chell, President and CEO of Draganfly. "This partnership reflects the growing demand for our drone, AI and data solutions with Tier 1 customers."
"Draganfly's support has enabled us to increase our portfolio for the cruise industry," said Klaus Vollmer, Managing Director of Lufthansa Industrial Solutions Hamburg & VP of Lufthansa Industrial Solutions Miami. "We are looking forward to a long and successful partnership."