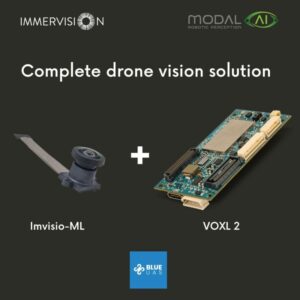 Immervision is partnering with ModalAI to create an advanced 'ready-to-fly' drone vision solution incorporating Immervision's Imvisio-ML and the ModalAI VOXL 2 platform.
This complete solution will provide the full image pipeline, from the optics to the hardware platform running the autonomous navigation software. With its 190 degrees Field of View and its low-light capability, the solution will increase the perception and improve the performance of machine vision applications, running on its Qualcomm QRB5165 processor.
The VOXL 2 computing platform, combined with the Imvisio-ML camera module, enhances mission critical navigation beyond visual line-of-sight to support safer, more reliable flight.
"ModalAI is excited to strengthen our partnership with Immervision. The VOXL 2 drone autopilot offers superior computing capability for the UAS industry. Coupled with Immervision's camera module, VOXL 2 can enable smaller drones to unlock autonomous perception and navigation in low-light environments," said Chad Sweet, CEO and cofounder of ModalAI, Inc.
"As we see more demand for autonomous navigation for drones, it became necessary to extend the drone's operating range from bright daylight to challenging low-light conditions," said Jean-Sébastien Landry, Director, Product Management, Immervision. "Working with the VOXL 2 platform, this complete solution offers optimal performance for GPS-denied navigation, location, mapping and obstacle avoidance in all lighting and environmental conditions."
Both companies are part of the Defense Innovation Unit (DIU) Blue UAS Framework, which accelerates commercial technology with the aim of providing trusted, advanced capabilities to UAV drone users.
Find suppliers of Computer Vision Systems & Technology for UAV, USV, UGV and robotics >>