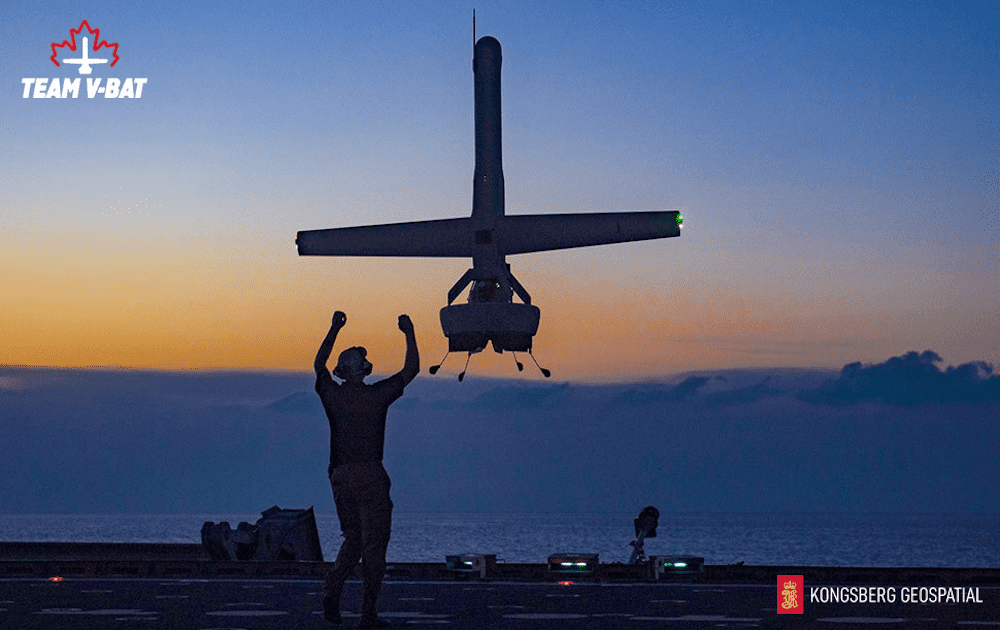 Team V-BAT has announced the collaboration of three technical organizations each providing specialized and experienced capabilities to enable a very low-risk, non-developmental solution for the upcoming Royal Canadian Navy (RCN) Intelligence, Surveillance, Target Acquisition and Reconnaissance (ISTAR) Project.
Voyageur Aviation Corp., a division of Chorus Aviation, will provide full airworthiness and special mission services, life-cycle management as well as in-service support. Shield.AI will provide the V-BAT tactical Unmanned Aerial System (UAS) platform and Kongsberg Geospatial will provide the Control Stations as well as shipboard system interfaces.
The Shield.AI V-BAT is a UAS equipped for shipborne operations and proven during thousands of hours of shipboard operations for clients including the US Navy, Marine Corps and US Coast Guard. It can carry multiple ISR sensor payloads simultaneously to provide a variety of tactical mission capabilities over land and at sea. Its unique design requires no ship modifications to enable ease of storage, ease of passage through standard hatches and safe launch/recovery off a ship deck in high sea states.
"Shield.AI recognizes the importance of working with established Canadian companies and building on the important contributions that Canadian industry partners can play in the global growth of Shield.AI," said Brandon Tseng, President, and Chief Growth Officer of Shield.AI. "We will build on these relationships with Voyageur Aviation and Kongsberg Geospatial as a part of our growing supply chain network in Canada."
"We are very pleased to join Team V-Bat to leverage our strong Canadian capability in delivering aircraft maintenance and in-service support solutions for the Canadian Forces," said Cory Cousineau, President of Voyageur Aviation Corp. "Our in-depth experience as an operator on deployed missions will help ensure that we deliver reliable and available operations for the RCN."
"Kongsberg Geospatial is proud to join Team V-Bat," said Jordan Freed, president of Kongsberg Geospatial. "Kongsberg Geospatial has extensive experience across the breadth of defense ISR systems and particularly as a supplier of unmanned systems control systems and sensor data management solutions. We will bring these made-in-Canada capabilities to Team V-Bat to help deliver a world-class, operational Canadian capability based on the best-of-breed aircraft in this category."