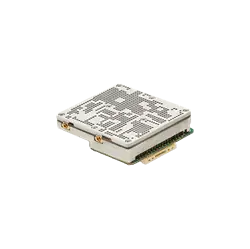 Doodle Labs and ModalAI have launched a direct integration between Doodle Labs' nano-OEM and mini-OEM Smart Radios and ModalAI's VOXL 2 autopilot. 
The integration between these key drone components aims to empower drone manufacturers to seamlessly build highly intelligent drone systems with a powerful and reliable datalink.
Doodle Labs' Helix version of its Smart Radios and ModalAI's VOXL 2 are both part of the Blue UAS Framework, fully cleared for use by the US government.
"Our radios achieve very long range with high throughput and a reliable datalink. ModalAI is committed to developing autopilots for smaller, smarter and safer drones. Add in the Blue UAS connection and it's a natural partnership that we're very proud to support," said Nimesh Parikh, CEO and Founder of Doodle Labs. "We think this integration could be a game-changer for many drone OEMs and allow them to go to market faster with their best drones ever."
"As a Blue UAS Framework manufacturer, our mission is to advance the US drone industry with advanced, interoperable technology that accelerates the path to autonomy," said Chad Sweet, CEO and Co-Founder of ModalAI. "We are pleased to collaborate with Doodle Labs to make their Smart Radios available on VOXL 2. Developers who use VOXL 2 and Doodle Labs' Smart Radios can achieve a quicker time to market and FY20 NDAA Section 848 Compliance."
The development of Doodle Labs' Helix Smart Radio was sponsored by the Department of Defense's Defense Innovation Unit specifically for the Blue UAS program.
According to Doodle Labs, the Helix Smart Radio the only radio to meet all Blue UAS Framework requirements in one radio. It provides the tactical capability of six frequency bands (M1-M6) in one radio. With Helix, end-users can switch frequency bands based on interference, country of operation or any other reason without having to swap out hardware. Helix Smart Radios are also fully NDAA compliant.
Helix Smart Radios are available in two form-factors; mini-OEM and the even smaller nano-OEM, both low-SWaP designs that enable long range and high throughput and are tailor-made for drones. In addition to Blue UAS-compliant Helix versions, both Smart Radios are also available in unlicensed 2.4 GHz versions for commercial drone use.
VOXL 2 is ModalAI's latest autopilot, powered by the Qualcomm Flight RB5 5G platform. At only 16 grams, ModalAI claims its VOXL 2 boasts more AI computing than any other autopilot. VOXL 2 integrates a PX4 real-time flight controller with an 8-core CPU up to 15 TOPs, seven image sensors, TDK IMUs and barometer, 5G connectivity and is assembled in the USA. The new computing platform accelerates the development of commercial drone and robot solutions to realize the benefits of autonomous AI and 5G.
VOXL 2 enables autonomy and communications for indoor and outdoor drones and robots with vision-based SLAM and AI for movement, designed specifically for GPS-denied, autonomous UAVs with obstacle avoidance. With a 5G add-on, VOXL 2 enhances mission critical navigation, including BVLOS to support safer, more reliable flight.