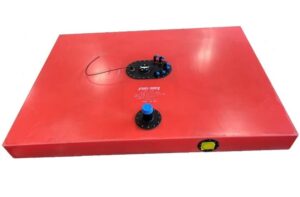 Phenix Solutions has confirmed that it has selected Fuel Safe Systems to provide the primary fuel tank system for the Ultra 2XL heavy-lift UAS (unmanned aerial system). The new tank system is the largest crosslinked high-density polyethylene (XLHDPE) rotational-molded system Fuel Safe has developed and will serve as the platform for future auxiliary tank systems for extending the range and mission capabilities of Phenix Solutions UAVs.
The partnership between the two companies has allowed the development of a customized, high-quality, low-weight fuel system with years of proven crashworthiness technology built into the design. The specialized fuel system meets the demanding specifications for the newly developed Phenix Solutions aircraft and offers a ballistic coating option for missions in hazardous flight environments.
Fuel Safe Systems has been manufacturing high-performance safety fuel systems for racing series such as NASCAR, IndyCar, and numerous others for over 34 years and has recently brought those lightweight, high-strength, innovative technologies and manufacturing processes to the defense and aerospace industries.
Brian Riese, President and CEO of Phenix Solutions, commented: "The selection of Fuel Safe for the Ultra 2XL was an easy decision due to their tremendous safety record, high-quality products, and great working relationship, all of which meet our best in breed model. The Fuel Safe tank systems have a proven track record of crashworthiness performance and their recent interest in moving into the aviation sector made this partnership a perfect fit. We have benefited from Fuel Safe Systems, in-house engineering team with years of experience and support in the industry."
Dan Tynan, Fuel Safe's Director of Industrial Sales & Engineering, noted: "We're thrilled to be working with Phenix on this new aircraft design, which looks to be one of the most innovative designs in the UAS market that we've come across. This is exactly the sort of program that Fuel Safe wants to be a part of, and our long history with several members of the Phenix leadership team leads us to believe that this will be an incredibly successful program."
Find manufacturer of Fuel Tanks & System Components for Unmanned Vehicles >>