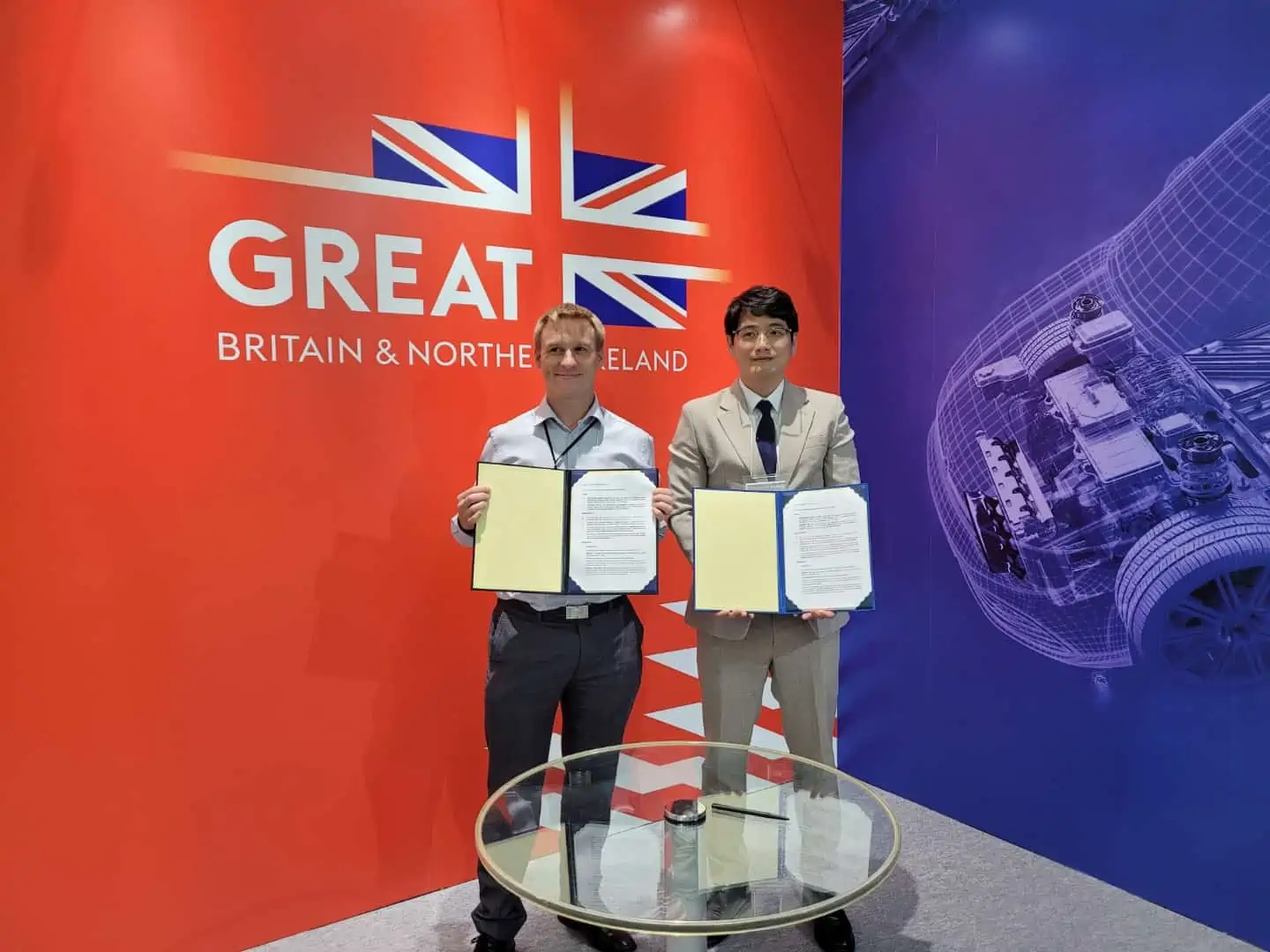 Intelligent Energy has signed a Korean manufacturing license agreement with South Korean partner Hogreen Air that could see local production of IE's 100kW hydrogen fuel cell, IE-DRIVETM, commence in 2024.
Greg Harris (CCO, IE) and Seong-ho Hong (CEO, Hogreen Air) signed the agreement during the JSAE Annual Congress (Society of Automotive Engineers of Japan) in Yokohama, Japan, on the UK Pavilion stand hosted by the Advanced Propulsion Centre (APC).
South Korea is one of the countries driving the growth of the Hydrogen Economy and acknowledges the potential for both hydrogen and specifically fuel cell production. It is a key market for IE and their respective products for drones, warehouses, power production, automotive, eVTOLs and aerospace.
Having started its business as a drone supplier and an integrator of IE's IE-SOARTM fuel cell modules for UAVs, Hogreen Air has become a valuable partner and distributor for IE and has supported the establishment of fuel cells into the Korean market. Hogreen Air's product offerings are no longer limited to drones as the business is expanding into various industrial fields such as power generation up to 20MW and mobility. This provides IE with the opportunity to scale manufacturing capabilities and offer a wider range of products into South Korea and the wider South East Asian region with Hogreen Air's support.
David Woolhouse, CEO at Intelligent Energy said; "Over the last few months, we have been in discussions with partners in the Hydrogen economy hot-spots around the world to start local manufacturing. We have been working with Hogreen Air for 4 years and are delighted to sign up manufacturing in Korea as a first step in creating IE's global production footprint. As we develop our business to scaled local manufacturing, we will continue to develop a Technology Centre here in the UK."
Commenting on the manufacturing license agreement, Seong-ho Hong, CEO of Hogreen Air added; "Through this contract, we have built a stronger relationship with Intelligent Energy, and based on this, we are very pleased to have the opportunity to introduce Intelligent Energy's fuel cells with excellent performance to the rapidly growing South Korean hydrogen market."