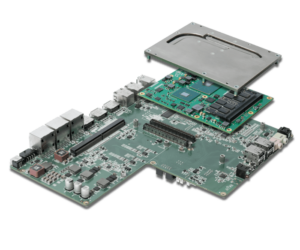 congatec has confirmed that it has partnered with System Industrie Electronic GmbH (S.I.E), an expert in system design and integration, mass production and assembly of OEM platforms. The two companies will focus on developing solutions for regulated industries and systems that need cyber security certification from federal agencies such as the German Federal Office for Information Security (BSI).
The partners plan to create a value package that offers full system responsibility – from the design of dedicated carrier boards and housings to mass production of entire systems that conform with all target industry specific regulations, certifications and life cycle management requirements.
The two companies also aim to enter further embedded and edge computing markets for critical infrastructures, such as the financial and insurance sector, water and energy utilities, information technology and telecommunications, and even transportation and traffic, all of which rely on cyber-secure systems for their IT infrastructure.
Gerhard Edi, congatec's CSO, commented: "We are the only leading embedded computing vendor worldwide that focuses on its core competences. To better serve our OEM customers, who demand individually tailored system-level products with full system responsibility, we invest in strong vertical market partnerships such as the one with S.I.E. With congatec and S.I.E already serving joint customers in regulated markets such as medical and healthcare as well as critical infrastructures, we have a solid foundation to catapult our established and prospering cooperation into a strategic partnership to multiply this success."
Josef Krojer, General Manager at S.I.E System Industrie Electronic, commented: "Looking at the rising risk of cyber attacks to critical infrastructures and the need for a higher class of quality, traceability and documentation that comes with MDR regulations, we see an ever-increasing amount of applications that can benefit from the strategic partnership between congatec and S.I.E, which bundles each of our strong core competences into best-in-class quality for our OEM customers. We see ourselves as one company and together we offer an unparalleled value proposition with full system responsibility – from the computing core to certification, mass production and life cycle management. This is especially valuable if customers in regulated markets are looking for a source with central European roots."