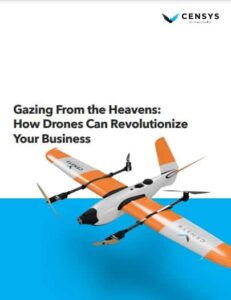 Censys Technologies has released a whitepaper entitled "How Drones Can Revolutionize Your Business", detailing the advantages of UAVs (unmanned aerial vehicles) with a variety of use cases that highlight civil and commercial applications.
Download the full whitepaper here
The whitepaper covers:
A population survey of sandhill cranes undertaken by the U.S. Bureau of Land Management
Landfill and gravel pit inspections conducted by the U.S. Bureau of Land Management
The advantages of UAVs for public safety, first responder and disaster management applications
How drones equipped with different payloads can handle a wide range of data gathering tasks for precision agriculture
Mapping, surveying and inspection with UAVs
Specifications of the Sentaero VLOS and BVLOS drone platforms, and the advantages of each
The advances in unmanned aviation technology have made drones highly attractive for many public and private sector applications. To find out more, download the full whitepaper here.