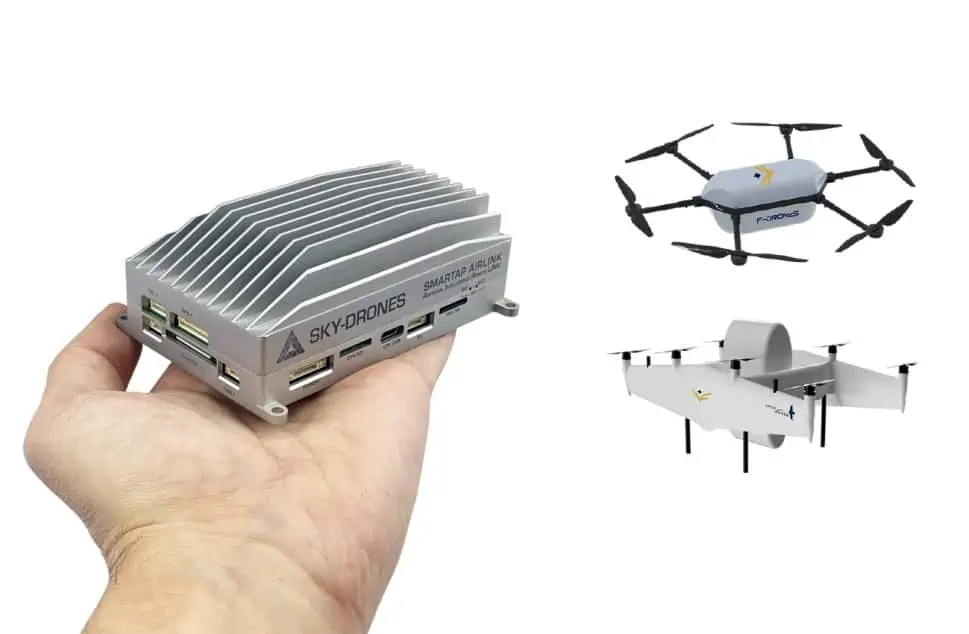 Sky-Drones has provided its SmarkLink Drone Datalink with Integrated Onboard Computer to F-Drones, a developer of sustainable maritime drone delivery solutions. F-Drones is also making use of SmartAP GCS (ground control station), the mission planning and flight control software created by Sky-Drones.
F-Drones' mission is to transform maritime logistics with 24-hour commercial beyond-visual-line-of-sight (BVLOS) drone deliveries. The company specialises in deliveries between shore, ships, and offshore platforms, using their fully-electric autonomous VTOL UAVs. HyperCopter and HyperLaunch are capable of delivering payloads of 5kg over 30km and 50km respectively, and F-Drones is also currently developing HyperLaunch Heavy (HLH), which will deliver 100kg over 100km.
Sky-Drones Technologies developed its flagship product AIRLink with enterprise in mind, with the intention to make the movement from drone creation to actual flight an easy and effortless one. AIRLink is an AI mission computer with cutting-edge autopilot and LTE connectivity, and currently sits on UAVs all over the world in a variety of industries including delivery, security, surveillance, and agriculture.
With Sky-Drones' technology, F-Drones can relay, record, and replay live video footage from their VTOL UAVs through the provided HD FPV (first person view). Even in testing ocean environments, F-Drones can take full advantage of AIRLink's 3x-redundant vibration-dampened temperature-stabilised IMU built in for clear, continuous, and concise video footage.
According to F-Drones, their services are predominantly cheaper, faster, and cleaner than any other shore-to-ship service available to date. With the addition of Sky-Drones' refined autopilot capabilities, the two companies hope that this partnership will develop further over the coming years.