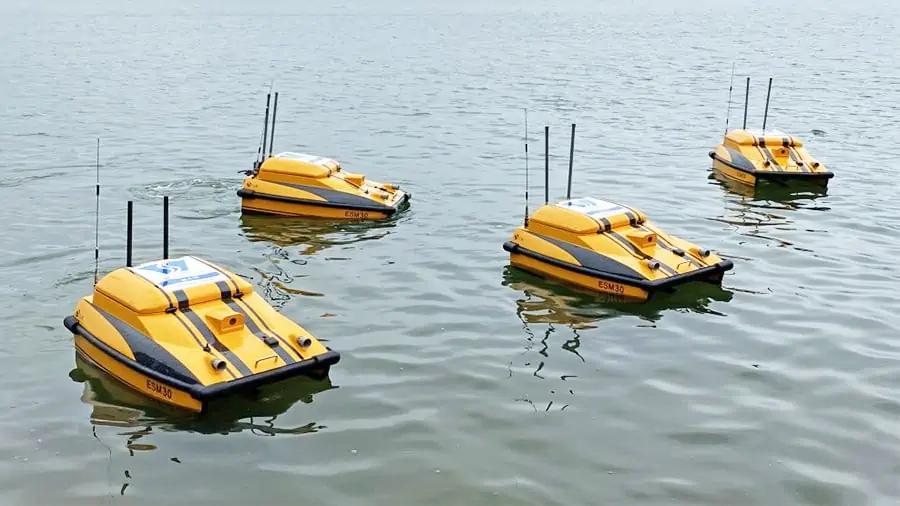 OceanAlpha has released the following article highlighting how its USVs (uncrewed surface vessels) have been used to autonomously monitor water quality in a reservoir in Hong Kong.
Since 2017, the Water Supplies Department (WSD) of Hong Kong has procured a total of five autonomous water sampling and monitoring boats from OceanAlpha. These unmanned vessels are used to regularly monitor water quality in an impounding reservoir.
Plover Cove Reservoir (PCR) has the largest surface area of any impounding reservoir in Hong Kong. As the city's primary drinking water source, the freshwater stored in PCR can meet the drinking water requirements of 7 million Hong Kong citizens for nearly one hundred days. In practice, however, the reservoir's water quality may sometimes be affected by natural environmental conditions or unexpected incidents. For instance, a change of weather may lead to excessive growth of algae, causing an impact on water quality.
The WSD monitors water quality and collects water samples in the impounding reservoir regularly to keep track of any changes in water quality, ensuring that it remains in line with World Health Organization (WHO) guidelines for drinking water quality.
The USVs used by the WSD are based on OceanAlpha's ESM30 autonomous water sampling and monitoring boats, and are equipped with a water quality monitoring unit to monitor temperature, conductivity, turbidity, dissolved oxygen, pH, chlorophyll-a, and blue-green algae. The Global Positioning System receivers and an obstacle avoidance system allow the USVs to navigate obstacles during operation.
The USVs can monitor different parts of the surface of PCR, which is 12 square kilometres in surface area, and record the distribution and changes of surface water quality at the impounding reservoir. It used to take at least a few days for traditional vessels to cover the whole area, whereas the workload can be accomplished within one day by the USV crew.
Advantages of using USVs for water quality monitoring include:
Easy to Operate and Deploy – USVs can be operated by a trained technician, whereas traditional vessels have to be driven by a licensed vessel operator. The technician can deploy the USV system to work at various impounding reservoirs in water quality emergencies.
Efficiency – USVs are smaller in size and can travel to relatively narrow or shallow areas in impounding reservoirs. They can also simultaneously cover several monitoring points for higher efficiency.
Integrated Measurement – The USV system can generate water quality graphical reports based on the topographic map of the impounding reservoirs, making it easier to diagnose the distribution and trends of water quality data.
Environmentally Friendly – OceanAlpha's ESM30 USV uses renewable energy to avoid pollution for drinking water protection. In the case of the PCR, a solar panel system installed outside the USV storage house generates electricity for operation.