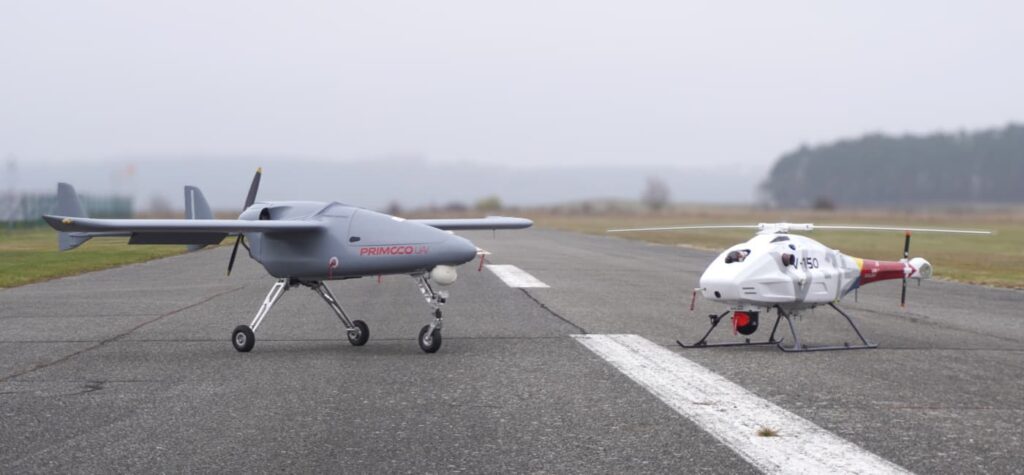 UMS Skeldar and Primoco UAV have partnered to provide a versatile service that pairs the Primoco One 150 fixed-wing UAV (unmanned aerial vehicle) with the Skeldar V-150 unmanned helicopter. Both platforms, which sit within the same category as per the EASA regulatory framework, share the same communication datalink system, which makes the simultaneous operation of both aircraft from one ground control station possible.
The One 150 and V-150 share many payload options and also have significant overlaps in the logistics and data processing areas. With both companies having been previously granted operational approvals under the new EASA drone regulations, this integrated solution is also fully compliant with the latest aviation regulations in relation to Remotely Piloted Aircraft Systems (RPAS) operations.
The new solution featuring combined operation of the One 150 and V-150 has been demonstrated to selected customers at the Primoco UAV SE company airport at Písek in the Czech Republic.
Ladislav Semetkovský, Chief Executive Officer and Founder of Primoco UAV, commented: "We are very excited to find a partner like UMS Skeldar. Its approach towards unmanned aviation and its team spirit fully matches with ours. Together we solve the dilemma of many current RPAS operators, who are still hesitating between the selection of fixed-wing or rotary-wing platforms. With our One 150 and Skeldar´s V-150 they do not have to; they can have benefits of both. They may finally have an unmanned system able to be deployed anywhere combining long endurance of One 150 with vertical take-off and landing capability of V-150. The customer will simply select what works best for his mission with no compromises. We were happy to demonstrate the system to the audience of potential customers and believe that such a solution will be very interesting for many operators. I would like to thank UMS Skeldar for their great support."
Axel Cavalli-Bjorkman, Chief Executive Officer of UMS Skeldar, stated: "We are delighted to be a part of this agreement with Primoco UAV SE. Providing both our Vertical Take-Off and Landing V-150 and Primoco's One 150 as one solution gives organisations the versatility they need to complete their often complicated missions. We pride ourselves at UMS as being an innovation leader when it comes to advances in rotary-wing UAV platforms. Our V-150 platform is a prime example of this, with a capability to complete remote automatic flights, hold multiple payloads and ability to provide a high-degree of maintainability and minimum turn-around times during operations. Alongside Primoco's advanced fixed-wing solution, we believe this agreement will give customers exactly what they need for their UAV missions."