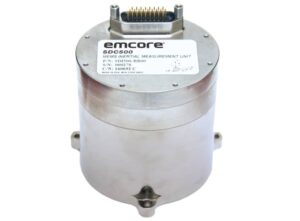 EMCORE Corporation has introduced the SDC500, a new MEMS (micro-electromechanical systems) inertial measurement unit (IMU), based around the company's proprietary quartz technology. The non-ITAR controlled IMU is ideal for a range of commercial, industrial and marine applications, including UAVs unmanned aerial vehicles) and other robotic platforms.
The SDC500 is available in several performance variants, ranging in accuracy from precision 1°/hr gyro and 1 mg accelerometer to 20°/hr gyro and 5 mg accelerometer bias over temperature, shock, and vibration environments. This enables users to select the SDC500 version that meets their specific performance and budget requirements, from near tactical grade to high-performance commercial/industrial grade.
The performance capabilities of the SDC500 are based on the proven, dependable, and accurate quartz MEMS inertial sensor technology in EMCORE's SDI500 tactical grade IMU. The new unit has been constructed with EMCORE's latest generation gyros, accelerometers, and high-speed signal processing, resulting in high performance. The SDC500's gyro design retains the sensitivity and linearity of quartz MEMS and greatly improves noise immunity. In addition, EMCORE's quartz MEMS technology enables repeatable high-volume production of precisely machined sensor structures combined with the inherent large signal output and thermal stability of quartz material.
The low-SWaP size, weight and power) and hermetically sealed SDC500 IMU provides integration features also found in the original SDI500 IMU, including industry-standard serial communication, configurable communications protocols, Time of Validity (TOV) sync, continuous Built-in Test (BIT), Electromagnetic Interference (EMI) protection, long MTBF, and flexible input power. These features make the SDC500 IMU easy to use in a wide range of challenging applications and operating environments.
David Wojciechowski, Vice President of Sales, Marketing and Business Development for EMCORE, said: "The introduction of the SDC500 IMU expands and diversifies EMCORE's IMU product portfolio further into high precision commercial-grade applications and affords customers the flexibility to precisely choose the performance-cost option they require. It is ideal for wide-ranging applications from general aviation and flight control to GPS-aided navigation, autonomous vehicles, aerial and marine geo-mapping, commercial pipeline inspection, mining and agriculture, robotics, and more."