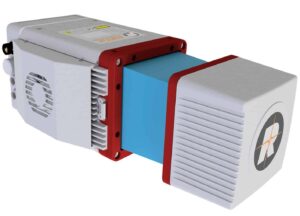 RIEGL is presenting a number of new laser scanning products for UAVs (unmanned aerial vehicles) and robotics at the INTERGEO 2021 trade show, which is taking place in Hanover, Germany from September 21-23.
The miniVUX-1LR is a new sister product to the miniVUX-UAV series of drone-based LiDAR scanners. The extremely lightweight and compact (1.55 kg/3.42 lbs) online waveform processing LiDAR sensor operates at flight altitudes of up to 820 ft and measuring ranges of up to 500 m/1640 ft. The sensor also features a full 360° field of view, a laser pulse repetition rate of 100 kHz, and optional integration of up to 2 cameras, and is ideal for challenging UAV applications such as measurement of inaccessible canyons and open-pit mines.
The VUX-1LR22 and the VUX-1UAV22 are airborne laser scanners offering a full field of view of 360° and increased laser Pulse Repetition Rates of up to 1500 kHz for the VUX-1LR22 and up to 1200 kHz for the VUX-1UAV22. This results in measurement ranges of up to 1845 m/6050 ft and altitudes of up to 1050 m/3440 ft for the VUX-1LR22, and measurement ranges of up to 1415 m/4640 ft and altitudes of up to 800 m/2640 ft for the VUX-1UAV22.
The new VMR Robotic Rail Scanning System utilises RIEGL's VZ-400i laser scanner and provides high-resolution scan data for applications such as verification of rail clearance or the surveying of railroad tunnels and subways. In Stop & Go mode, the system performs up to 50 scans/hour, and high-resolution calibrated photos can optionally be taken in parallel. The georeferenced point clouds are prepared for exportation to third-party rail processing software packages.