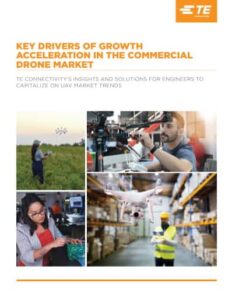 TE Connectivity has released a whitepaper detailing the key drivers of growth acceleration in the commercial drone market, as well as a guide to the company's products that are most useful for design engineers looking to create UAV (unmanned aerial vehicle) solutions for high-performance and harsh environment applications.
Download the whitepaper and product guide bundle from TE Connectivity's website here
The whitepaper covers:
An introduction to commercial drones
Trends in the commercial drone market that are driving accelerated growth, such as the COVID-19 pandemic, enhanced investment from venture capitalists and technology companies, and development of the UAS service industry
Sectors predicted to hold the highest share in the commercial UAS market, including agriculture, photography, energy, construction and insurance
Challenges for drone engineers and manufacturers
Commercial drone technology and design requirements for different drone platforms including fixed-wing, multirotor and hybrid VTOL
Design considerations for different drone subsystems such as payloads, datalinks, airframes and GCS (ground control stations)
How TE Connectivity leads with quality engineering solutions from its portfolio of rugged and sealed connectors, terminals and tubing, as well as sensors and antennas
TE Connectivity's guide to product solutions for commercial drones provides further insight into how the company's product solutions can enable reliability and connectivity for these applications. To find out more, download the whitepaper and product guide bundle from TE Connectivity's website.