A2Z Drone Delivery, LLC has launched a new commercial delivery Unmanned Aerial Vehicle (UAV) developed in collaboration with a leading global logistics provider to deliver dual payloads per flight.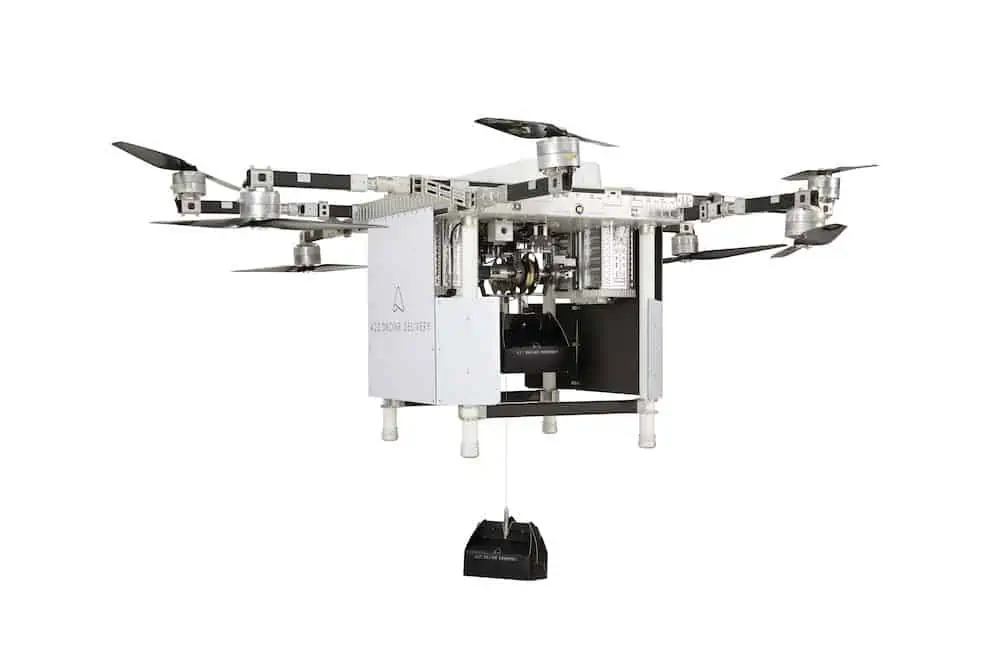 The RDSX commercial delivery UAV integrates A2Z Drone Delivery's proprietary tethered freefall Rapid Delivery System capable of quickly and safely delivering payloads from altitudes as high as 150 feet. By keeping spinning rotors far from people and property, the RDSX helps mitigate consumer concerns with drone deliveries such as the potential for property damage, intrusive rotor noise, and assuages some of the privacy concerns with low-flying UAVs.
The RDSX is a flexible drone delivery platform capable of carrying dual payloads each weighing up to two kilograms on a round trip of up to 18 kilometers, or the RDSX can be configured with a single tether to expand its range out to 30 kilometers.
The controlled-freefall delivery method allows UAV service providers to reduce time-on-station to a minimum by delivering the package to the ground in seconds and eliminating the need for the drone to touch down. By maintaining its altitude throughout the delivery, the RDSX can deposit payloads into areas congested by trees, wires or other dangerous obstructions.
The integrated A2Z Drone Delivery app combines manual control system operations with an onboard computer and sensor array to manage the package's controlled-freefall and gentle stop before the ground. With the package delivered, the RDSX's Kevlar tether and auto-release mechanism releases the payload before being reeled back up for reuse.
"Residential drone delivery pilot programs are coming online throughout the United States right now, and much of the industry is anxiously awaiting the large-scale regulatory approval that will see residential deployments rapidly expand," said Aaron Zhang, founder of A2Z Drone Delivery, LLC.
"While the raw technical capabilities for these deliveries already exist, a key benchmark for regulatory approvals will be addressing the consumer comfort with UAVs being rolled out into daily life. Our tethered freefall delivery capability integrated with the RDSX offers a way to mitigate some of those consumer concerns."
A2Z Drone Delivery's freefall delivery technology has previously been leveraged for residential drone delivery trials, deployment and retrieval of ground sensors for energy exploration, as well as for shore-to-ship port delivery.
The technology is equally applicable for first responders delivering life-saving medicine, or search and rescue professionals quickly deploying equipment to remote areas, or for rapidly collecting samples throughout an expansive mining facility.
The RDSX leverages a proven UAV flight platform equipped with a pair of cameras allowing pilots to navigate Beyond Visual Line Of Sight (BVLOS). The system features an independent downward-facing LiDAR sensing system to stream continuous data to the onboard firmware which controls the payload's rapid descent, and allows the pilot to visually monitor payloads through flight and delivery.
With quick-swap bucket-style batteries to limit downtime between flights, the RDSX is capable of operating in diverse conditions including temperatures ranging from -20°C to 45°C, in up to 95% humidity, and from elevations up to 4,800 feet. The RDSX's eight rotor arms, fitted with durable carbon fiber propellers, are able to fold away for easy transport of the drone.
"Working hand-in-hand with a logistics provider gave our engineers invaluable insights into how our customers will interact with the drone platform and allowed us to design the RDSX from the bottom up for the unique demands of commercial UAV deliveries," said Zhang.
"Based on an extremely robust flight platform with hundreds of thousands of flight hours, the RDSX integrates our tethered freefall delivery mechanism to minimize time-on-station, reduce downtime and prioritize safety for the airframe, its payloads and the customers receiving packages."

Integrated safety features in the RDSX include:
Onboard parachute which limits potential damage to the drone, payloads and property below in case of complete power failure or accident
Emergency payload abandonment allows the pilot to quickly detach the payload from the drone amid flight emergencies
Passive payload lock to safeguard against payload loss or tether slippage in case of unforeseen power fluctuations
Pre-flight weight check ensures the flight platform is not overloaded and controls payload deceleration
Payload status detection to monitor payload throughout flight and delivery
Rapid descent calculation will automatically determine when to slow the payload freefall at the proper distance from the ground
Manual delivery control via intelligent onboard systems that provide safeguards while allowing pilots to manually control tethered payload delivery and retrieval
Transverse tether winding ensures the tether is tightly woven on the reel to maximize capacity and prevent knotting
Customers can choose to extend the standard radio and ground station signal range to suit specific needs and they have the option to purchase the RDSX pre-installed with an open-source flight controller. With 32 battery bays, the battery dock is capable of batch-charging four batteries simultaneously. This optional addition to the RDSX ensures full-powered batteries are always available
A2Z Drone Delivery will be showcasing the new RDSX at the upcoming Commercial UAV Expo September 7-9, 2021 in Las Vegas, NV.