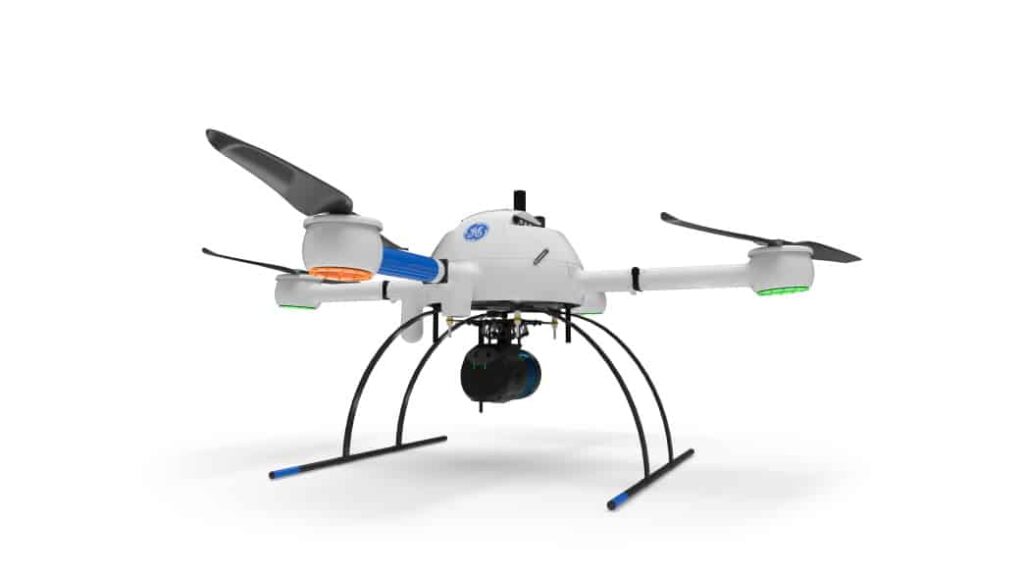 Microdrones has entered into an agreement to market GE's line of industrial drones globally, providing surveying professionals with powerful new technology that will enable more efficient, high-accuracy operations with enhanced safety. With these new products, GE enters the professional UAV (unmanned aerial vehicle) market, and Microdrones will benefit from GE's industrial market expertise, global reach, and experience in scaling up industrial businesses.
GE's industrial drone line is manufactured at the Microdrones facility in Siegen, Germany, and the systems will be sold and supported across six continents. All products that are part of the GE industrial drone line are equipped with improvements in flight efficiency, as well as enhanced safety features. The line provides a new addition to Microdrones' portfolio of surveying solutions, the mdLiDAR1000LR, which allows professionals to collect data from a longer range, covering a greater area per flight and providing an advantage even in steep or treacherous terrain.
The partnership will accelerate deployment of Microdrones survey equipment as an essential tool for the creation and maintenance of digital twins, digital terrain models, maps and other geospatial products. Microdrones solutions are used by professionals in land surveying, construction, precision agriculture, mining, power line inspection, forestry management and more. As part of its long-term commitment to Microdrones, GE has become an investor in the Microdrones parent company, mdGroup, and has committed to continue to invest in the near future.
Vivien Heriard Dubreuil, CEO of Microdrones, commented: "With an industrial focus, the GE industrial drone line is modular, expandable, upgradeable and simple to use in the production of high-quality geospatial data. This is a win for both GE and Microdrones, and most importantly our mutual customers."
Thomas Buccellato, GE's Licensing Senior Managing Director, said: "The GE industrial drone line is a powerful extension and fit for the GE brand worldwide. We can provide field proven inspection, surveying and geomatics technology that complements our key industrial segments. This is just the beginning of something very promising as we work with Microdrones to scale this up and offer a very powerful and trusted drone surveying solution to our industrial customers worldwide."
Microdrones will be delivering a special online presentation for geospatial, construction, mining and inspection professionals that will explain the strategy behind the new relationship, answer frequently asked questions, and give an overview of the all new GE industrial drone line. The presentation will take place on Wednesday, July 14, 2021, and viewers can register here to watch at either 9am CEST, 9am EDT or 6pm EDT.