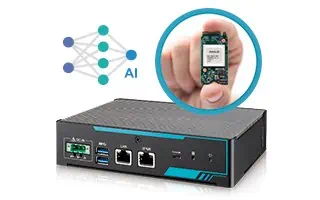 Global embedded experts Vecow Co. Ltd, has announced the latest Arm-based family of Edge AI Computing System VAC-1000. Powered by 24-core Foxconn Cortex-A53 MPU, running Hailo-8™ AI accelerator at 26 TOPS, and Lightspeeur® 2801S Neural accelerator at 5.6 TOPS, the VAC-1000 series delivers improved efficiency and integration for broad adoption of the latest IoT Edge computing solutions.
With up to 16GB DDR4 2133 memory and optional NX Witness VMS (Video Management System) supported, VAC-1000 provides a server-grade computing capability that is ideally suited for intelligent surveillance applications including Public Surveillance, Traffic Vision, Factory Automation and any AIoT and Industry 4.0 applications.
Vecow VAC-1000 Series is an Arm-based computing system that is built on 24-core Cortex-A53 processor, with 64-Bit MPU capabilities up to 1GHz. Featuring simplified I/O interfaces including 1 GigE LAN, 1 IPMI, 2 USB 3.0, 1 Micro USB and equipped with 1 SATA and 1 M.2 form factor storage, Vecow VAC-1000 provides mighty configurations in a compact design.
"We are excited to announce this new family of Arm-based Edge AI Computing System to our partners," said Joseph Huang, Sales Manager, Sales & Marketing Division at Vecow.
"Vecow VAC-1000 is based on Cortex-A53 processor and integrated with AI accelerator for inferring. Artificial intelligence is getting more and more popular in these 2 years and we can see many AI applications deployed in vertical markets for better and smart living for the human beings. For the intelligent surveillance and vision fields, we are pleased that VAC-1000 can bring a brand new hardware and software architecture, dedicated and easy-to-use functionality for our customers and partners".
Find developers of Artificial Intelligence Solutions for Unmanned Systems >>