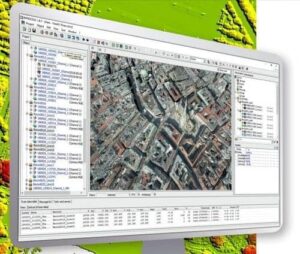 RIEGL has released an updated version of RiPROCESS, the company's project-oriented software for the managing and processing of airborne, mobile and UAV (unmanned aerial vehicle)-based LiDAR data. Version 1.9 of the software makes use of a new RiUNITE software module, which takes advantage of 64-bit processing to handle larger quantities of data and significantly accelerate the process thanks to an improved file structure and reduced data handover.
On an advanced PC, RiPROCESS can now process 1 hour of continuous scan data within 1.5 hours, with the storage requirements reduced by 50-75%. Scan data adjustment can be done three times faster, and colorization of georeferenced point clouds requires just 25% of the time that was needed previously. The colorized point clouds can be exported as LAS 1.2 and 1.4 files six to ten times faster.
Additionally, the new RiPROCESS licensing scheme allows users to tie the license to the serial number of a RIEGL LiDAR device with no restrictions on the number of instances, making it especially suited for mass data processing in the cloud.
To find out more about RiPROCESS 1.9, watch RIEGL's presentation below.