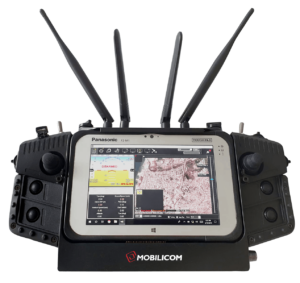 Mobilicom, an end-to-end provider of cybersecurity and smart solutions for drones, robotics and autonomous platforms, has upgraded the Mini Controller PRO handheld ground control station (GCS). The rugged GCS is designed to provide intuitive command and control for unmanned vehicles, drones, and robotics carrying a variety of payloads.
The Mini Controller PRO is now compatible with SkyHopper's COMBO multifunctional broadband wireless solution, which combines a built-in bi-directional SDR (software-defined radio) data link with LTE networking functionality, enabling connectivity anywhere and at any time. Incorporating an advanced ICE Cybersecurity suite, COMBO is designed for commercial, industrial and public safety drones as well as other robotic platforms, and ensures mission continuity even in challenging urban and NLOS (non-line of sight) environments.
The highly reliable controller features built-in environmental protection for operation in challenging conditions, and can support a wide range of professional and mission-critical unmanned systems applications in the enterprise, defense and government sectors.
Other features of the Mini Controller PRO GCS include:
"All in One" Unified, with multiple elements:

Toughpad multi-touch Tablet
Transceiver unit –MCU or SkyHopper
Encrypted & secured device (optional)
Battery
Power supply & Antennas

Customized transceiver unit, joysticks, buttons, sliders, toggle switches
Dual Radio antenna & GPS Antenna for location base services
Configurable multiple joysticks, buttons, sliders, toggle switches and a fail-safe guard
IP 65: All-weather / Dust and Water-Resistant Design
User-replaceable battery in field
I/O interfaces to peripherals
Light and compact.