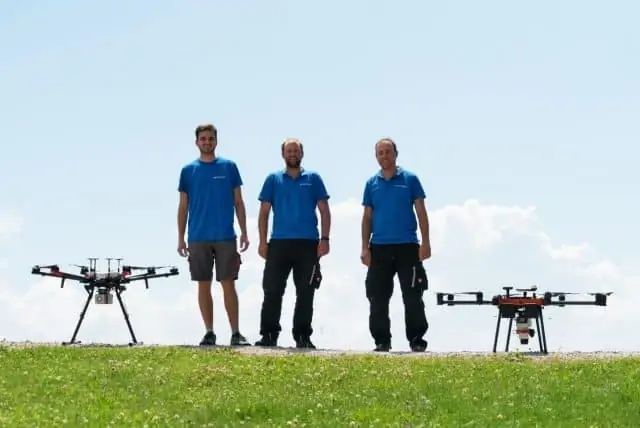 RIEGL has released the following article detailing how Alto Drones, a provider of UAV-based laser scanning and photogrammetry services, has used the RIEGL miniVUX LiDAR sensor to grow their business and take on a variety of new applications.
The South Tyrolian company Alto Drones, a service provider for UAV-based laser scanning and photogrammetry, has made a mark in a variety of applications, such as terrain surveying, surveying of ski resorts, geology, infrastructure, gauging snow and ice levels, archaeology and building research and agriculture in Italy, Austria, and Switzerland. Thomas Fontana, CEO of Alto Drones, attributes this to the fact that he decided to work with the RIEGL miniVUX LiDAR sensor.
How it all started
Fontana studied Civil Engineering at the University of Innsbruck. As life goes, he discovered his love for surveying there. "Because it's such a wonderful discussion-free matter, there is no place for subjective opinions or puffery as it unfortunately very often occurs in the construction industry. This area became extremely repugnant to me over time," he says. So, from 2002, he worked in surveying offices in any study-free time and in parallel filled all free electives at the university with surveying topics.
After finishing his studies, he started in the lucrative but, for him, rather grueling and stressful construction industry. He soon found that he was not suited to be a clerk and the only solution was to become his own boss, so he could make the decisions on how to deal with customers. Together with his cousin, he founded Alto Drones in the summer of 2014. They started importing high quality drones from Germany to Italy. Fontana then quickly realized the enormous potential of photogrammetric surveys using drones, and spent many days testing, developing and perfecting a suitable workflow.
However, the economic success left much to be desired, and his partner left the company. Fontana decided to continue, and Alto Drones now started as a service provider offering photogrammetric surveys. "I was firmly convinced that I could make a living from my dream one day," he says. In 2016, Fontana realized that photogrammetry cannot fully meet the needs of his customers and he looked around for other methods. "And that's when I stumbled across the RIEGL miniVUX-1UAV LiDAR sensor. On October 25, 2016, I was introduced to the RiCOPTER and the RIEGL LiDAR sensors in Horn and I was fascinated from the possibilities offered by laser scanning. End of 2016, I got their offer for a miniVUX-1UAV LiDAR sensor — and had to gulp: The price was higher than my annual turnover. But I ordered it — a decision that was spot on," he recalls.
As Alto Drones decided to order a RIEGL miniVUX-SYS with fully integrated INS/GNSS system and to wait for the introduction of the new APX-20 IMU from Applanix, delivery of the miniVUX-1UAV system occurred in April 2018. Nevertheless, Fontana has not regretted this decision to this day. At Alto Drones, the RIEGL miniVUX-SYS is appreciated for its outstanding features, especially the excellent penetration of even dense vegetation and the possibility to measure centimeter accuracy without the need of any control points. Highly accurate survey data of entire mountain flanks can be acquired without having to enter the area. Another plus, especially here in the often deep-snow mountains of Northern Italy, Switzerland or Austria, is the possibility of measuring contourless and structureless surfaces, such as snow, glaciers and ice. This is possible due to the systems wavelength of 905 nm. Combining both possibilities, the miniVUX-SYS airborne laser scanning system paired with a well-motorized copter, it is THE tool for surveying glaciers, recording avalanche slopes, and documenting avalanche events.
The integration of the first RIEGL scanner in April 2018 went smoothly and after only three to four test projects, Alto Drones could fly their first commercial projects in Northern Italy and start earning money with the miniVUX-1UAV. Fontana recalls, "In the beginning, the handling of the very powerful RiPROCESS evaluation software was a challenge, mainly because I thought that pass point free work must be possible! This did not work immediately. But after lively email correspondence with extremely nice and especially patient support staff, we got it done and measured control points more for control than out of necessity."
The impact
In the first year of using the scanner, Alto Drones doubled its revenue. This was made possible primarily by the extremely increased efficiency and data quality, and in the time saved in field work. While a photogrammetric UAV project of 100 hectares (approx. 250 acres) required about 80-100 control points and this required at least one day of surveying depending on the terrain, UAV-based laser scanning enabled the completion of this work in half of the time. Fontana says, "Also processing of the data is much faster and allows us to handle almost three times as many projects in the same amount of time or to record three times the area in the same amount of time and in better quality. Sounds utopian, but it is true."
Between April and December 2018, the company got off to a brilliant start completing 50 projects with the miniVUX, each averaging 70 hectares (around 170 acres). "In my eyes, this is exactly the sector where this sensor has its strengths and is unrivaled in its cost-effectiveness: flying over areas with dimensions between 10 and 300 hectares," Fontana summarizes.
In 2020, Alto Drones decided to invest in a RIEGL miniVUX-2UAV, now offering additional performance. This sister type of the miniVUX-1UAV sensor offers 100 kHz and 200 kHz laser pulse repetition rate (PRR). With the 200 kHz PRR, the sensor provides up to 200,000 measurements per second and thus, a dense point pattern on the ground for UAV-based applications that require the acquisition of small objects. At the end of April 2021, Alto Drones will use their brand-new RIEGL miniVUX-3UAV to further increase performance and efficiency. This sensor provides up to 300,000 measurements/second at a field of view of 120° and therefore, provides an extremely dense point cloud that allows drones to reliably detect even the smallest objects.
Alto Drones have now flown a total of 220 projects. These projects range from small areas of just five acres to archaeological sites of more than 1,200 acres. Although small areas could be measured terrestrially, the small areas Alto Drones needed to measure were too dangerous and/or too inconvenient to send someone there. This led customers to utilize the miniVUX and UAV-borne data acquisition.
For extremely large areas, airborne laser scanning using helicopters would be an option. However, the required point density and environmental and noise protection consideration ultimately led to Alto Drones being awarded the contract. They often receive orders because it simply had to be fast and they offered the fastest and cheapest solution using their car, UAV, and scanner. "Quite often we received the order in the afternoon, flew the next day and the customer still received a download link with the data in the evening, 24 hours after placing the order," Fontana proudly says, adding that "in my opinion, this distinguishes the RIEGL miniVUX-SYS on a copter: speed, flexibility and the ability to take advantage of flying under overcast sky or during a short time window without fog."
The mission for the company operating the glacier lifts in the Schnals Valley in South Tyrol, Alpin Arena Schnals/Senales, is especially remembered by Fontana. The terrain below the cable car was to be surveyed. The problem was that they received the order in November and two days later, a lot of fresh snow was predicted for the region. The location was situated between 2,000 and 3,250 m height and the average slope was of over 40°. This did not make things easier. Nevertheless, Alto Drones flew the route with three flights the day after and produced a detailed and accurate digital twin of the cable car route.
Time and cost saving
Generally, it is difficult to compare time and cost savings as well as area performance of photogrammetric and laser scanning projects because the requirements regarding accuracy, point density, and output were most likely very different. "Comparable to our previous photogrammetric projects are actually only our UAV surveys in the more than 80 ski resorts in the Alpine region as they have similar requirements for the snow management systems," states Fontana. Here, Alto Drones manages an average of 500 acres (200 hectares) per day, and with the new RIEGL miniVUX-3UAV (purchased in 2020) they even expect an increase to almost 700 acres (280 hectares) surveyed. However, due to the individual starting point situation, they also had ski areas where only 250 acres (100 hectares) per day could be achieved. The absolute record of area performance was the surveying of an avalanche slope with 741 acres (300 hectares) done in one day of flying. For comparison, in 2015, Alto Drones needed three flight days of photogrammetric data acquisition to deliver surveying data of the same accuracy for 500 acres (200 hectares) of area. For data processing, another one to two weeks were necessary. Currently, they can deliver the data for such an area, at that accuracy, in less than one day.
At the end of 2018, Fontana had to make the decision whether to continue as a one-man show or to form Alto Drones into a larger company. As chance would have it, a friend wanted to work in the UAV sector and so he had his first employee in mid-2019. Thanks to an excellent order situation and the growing demand, Alto Drones could add a second employee in 2020 and at the end of the summer of 2021, a young geodesist will further strengthen the team.
"Currently we operate with a RIEGL miniVUX-2UAV on a DJI M600 Pro and a RIEGL miniVUX-3UAV on a Soleon LasCO. This allows us, despite high demand, to continue to be flexible and fly all projects in a timely manner. And the trend is towards a third scanner anyway," Fontana states pleased.
He praises RIEGL and says, "What I appreciate about RIEGL is the extremely high quality of the products, coupled with a personal atmosphere that is more reminiscent of a little village store than what I consider to be the best manufacturer for laser-based surveying (whether TLS or ALS or ULS). The friendliness, the personality, the cordiality, the continuity of the employees, coupled with professionalism, high product quality, extremely fast handling of support requests and the ability to admit mistakes, if they should happen, are for me unique in this sector and incomparable with other companies. I deliberately do not choose the word 'comparable', because RIEGL is simply incomparable! This is not only limited to the ULS sector, but I have also had this experience with TLS, as we sporadically use the VZ-400i of a surveyor friend. In short, RIEGL is not only unique in terms of pure quality and innovations, but also in terms of employees and company philosophy."