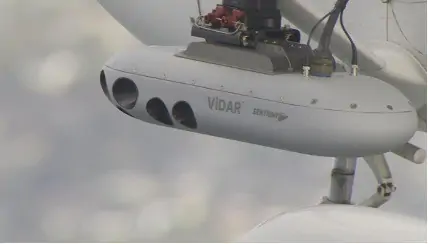 Sentient Vision Systems has announced the first flight of its ViDAR pod system, the VMS-5 (ViDAR Maritime Surveillance) Day/Night Optical Radar pod. ViDAR (which stands for Visual Detection and Ranging) is an Optical Radar that can autonomously detect small objects on the sea surface over very wide areas, by day and night, in conditions up to Sea State 6.
The ViDAR VMS-5 pod is equipped with multiple fixed, high-resolution cameras with a combined Field of View (FoV) of 180 degrees. From an altitude of 1500ft at a speed of about 90kt, they scan a surface swath 3.2 nautical miles wide to find targets as small as a person in the water. If the mission objective is to find a suspicious boat with a low radar cross-section, then the ViDAR swath can easily be increased to over 25nm from 5,000ft.
ViDAR has proven its capability as both a Search and Rescue (SAR) and a maritime search and surveillance tool, with demand for support of a wide range of missions growing globally, including drug interdiction, anti-piracy and illegal fishing detection.
Sentient has been suppling ViDAR as a software-based solution since 2016. Operators have successfully integrated it aboard many manned and unmanned, fixed-wing and rotary wing platforms. The company is now stepping up to also become an Original Equipment Manufacturer (OEM) offering ViDAR as a complete solution, including sensors and processors, for operators around the world.
Speaking of this development Dr Paul Boxer, Sentient Managing Director said; "ViDAR offers customers much better wide-area situational awareness at a lower cost than anything else available. This is especially the case in Search and Rescue (SAR) operations. By building our own integrated ViDAR pods we're able to offer customers an enhanced surveillance capability backed up by dedicated support. Importantly, we control the quality and reliability of the ViDAR installation to deliver a more consistent, well-engineered, end-to- end integration and training process."
The pods will be offered initially with two sensor types: a 60 Megapixel Electro-Optic (E/O) installation and a HD Infrared (IR) sensor for night and bad weather operations. Depending on the application these can also be equipped with a camera turret.
ViDAR increases probability of detection to over 96% on first pass with the ViDAR software providing a thumbnail to the operator's mission system showing the target and its location, enabling the operator to slew the platform's primary sensor onto it for further inspection.
The initial VMS-5 pod design is being flight tested and demonstrated on a Cessna 172, with pod designs being developed for larger, faster aircraft such as the Viking Twin Otter, King Air 300, Boeing 737 based maritime patrol aircraft, helicopters such as the AS365, AW139, AW189, AW101 and a range of medium-altitude long endurance (MALE) UAVs.
The company is developing both a Universal Mount for light aircraft applications and NATO- standard mountings compatible with the external stores pylons of military aircraft and large UAVs. The company already provides Mission Planning Tools as part of its ViDAR offering, and the pod can also be integrated with the aircraft's own mission management system.
"Different pod designs suit different missions and aircraft installations, so we're deliberately offering customer flexibility" explains Dr Paul Boxer, "A new generation of higher-definition sensors and enhanced processors becomes available roughly every 18 months, so the ViDAR pods are designed to accommodate new payloads with minimal re-design,".
The VMS-5 Day/Night pod is the first of a range of ViDAR surveillance pods configured for different missions and aircraft types. The release of this first ViDAR pod follows two years of self-funded R&D by Sentient Vision Systems and will be available for customer delivery during the first half of 2021.