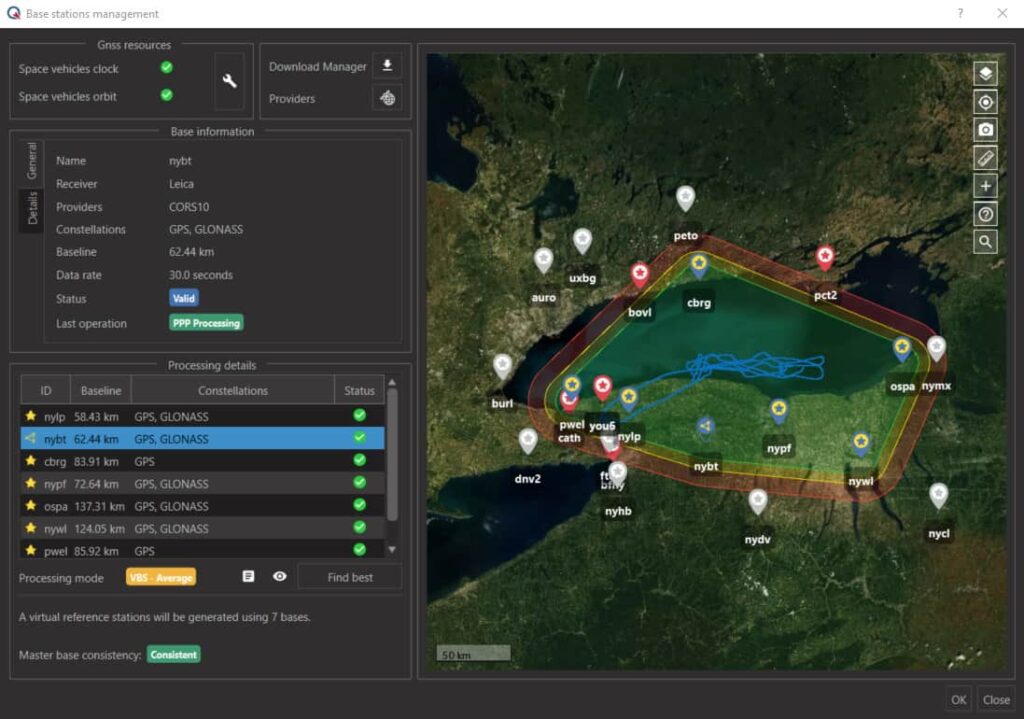 SBG Systems has released a Virtual Base Station feature for its Qinertia post-processing software. Qinertia provides access to offline RTK corrections from more than 7,000 base stations located in 164 countries, greatly improving trajectory and orientation accuracy by processing inertial data and raw GNSS observables in forward and backward directions.
The Virtual Base Station (VBS) functionality computes a virtual network around a project, providing robust, homogenous and maximised position accuracy and mimicking short baseline PPK. Surveyors can collect data far from base stations or over large areas, making it ideal for corridor mapping. After the mission, Qinertia chooses the most relevant reference stations, builds a virtual network, and improves accuracy to centimetre level with no convergence effects even in urban areas.
Qinertia supports all GNSS receivers and third-party IMUs, and automatically adjusts the VBS network to compensate for any base station position inaccuracy, providing full quality control indicators to assess expected accuracy and reliability. Qinertia's VBS technology can mix user base stations with permanent network base stations to improve accuracy in remote locations. The post-processing software works extremely rapidly, parallelizing the calculation of every base station in the virtual network and simultaneously processing the forward and backward computations. A typical UAV (unmanned aerial vehicle) survey can be computed in less than a minute.
The intelligent Qinertia software automatically selects the best positioning technology that applies to a project, whether it is a single base station mode, the Virtual Base Stations mode, or a Precise Point Positioning computation. Users can manually choose the mode and add or subtract base stations while Qinertia automatically re-checks and re-computes all parameters simultaneously to validate accuracy and consistency. Every step can be manually checked, with various quality control indicators available including separation, standard deviation, bias, scale factor, lever arm, as well as export statistics reports (RMS, min/max).